Thursday's Free Bluegrass Lunch Break Will Take Place in Arcata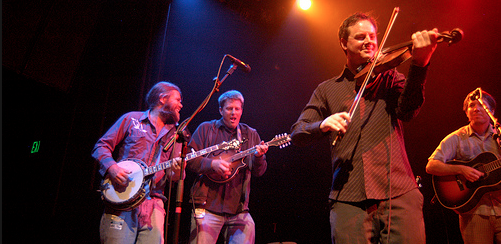 We here at the Lowdown will promise you your liveliest lunch break all week if only you will hustle your buns up to Humboldt State Univerisity at noon today. SF-based string band Hot Buttered Rum will lend their pickin' to the latest edition of HSU's Arts on the Quad series. Maybe pick up a burrito, lay out on the Quad and tell the boss you're takin' a long one.
Sample some HBR in the clip below -- if you listen to KHUM you should recognize the tune -- and/or peruse the rest of your Lowdown farther down.
--Andrew Goff
The Lowdown Fun Committee
Andy Approves
Events
Movie Showtimes
Broadway Cinema
AMAZING SPIDER MAN 2 2D: 12:15, 2:40, 6:00, 7:45, 9:20
AMAZING SPIDER MAN 2 3D: 1:50, 5:15, 8:35
BEARS: 1:00, 3:15, 5:25
BRICK MANSIONS: 2:10, 4:30, 6:55, 9:25
CAPTAIN AMERICA: THE WINTER SOLDIER 2D: 2:50, 5:55, 9:00
DIVERGENT: 12:50, 6:35
GOD S NOT DEAD: 2:00
GRAND BUDAPEST HOTEL: 12:30, 3:05, 5:40, 8:15
HAUNTED HOUSE 2: 4:45, 9:45
HEAVEN IS FOR REAL: 12:35, 3:25, 6:15, 8:45
NEIGHBORS: 8:00
OTHER WOMAN: 12:45, 3:35, 6:20, 9:05
QUIET ONES: 3:55, 9:40
RIO 2 2D: 12:10, 2:55, 5:35
TRANSCENDENCE: 3:30, 6:25, 9:10
Mill Creek Cinema
AMAZING SPIDER MAN 2 2D: 2:45, 6:00, 9:15
AMAZING SPIDER MAN 2 3D: 4:50, 8:10
BEARS: 4:20
BRICK MANSIONS: 4:45, 7:10, 9:30
CAPTAIN AMERICA: THE WINTER SOLDIER 2D: 6:05, 9:05
CAPTAIN AMERICA: THE WINTER SOLDIER 3D: 2:55
HEAVEN IS FOR REAL: 3:15, 5:50
NEIGHBORS: 8:00
OTHER WOMAN: 3:35, 6:15, 8:55
RIO 2 2D: 3:05, 5:40, 8:15
TRANSCENDENCE: 6:30, 9:20
Minor Theatre
AMAZING SPIDER MAN 2 2D: 5:20, 8:40
GRAND BUDAPEST HOTEL: 4:10, 6:40, 9:10
LE WEEK-END: 3:40, 6:00, 8:20