It's Bike to Work Day, Arcata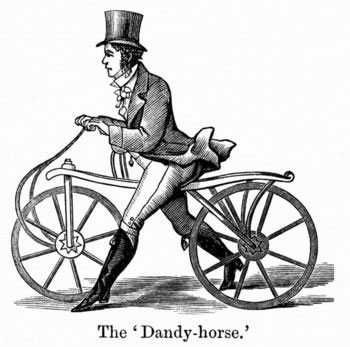 Cars suck. Remember how you were just complaining how the cost of gas, insurance, tires, tuneups, registration, etc. is keeping you financially enslaved? You know how you've been saying you want to exercise more? Well, the stars have aligned to let you know you should be riding a bike more, specifically in that it is Arcata Bike to Work Day (which, I guess it could be everyday)! But here's why this day is different: Two-wheeled commuters will gather at the Arcata Co-op from 7 to 9 a.m. for free hot drinks and snacks and tuneups from Adventure's Edge. Then, at noon, there will be a rally on the Arcata Plaza with raffles, snacks and tuneups by Revolution Bicycle Repair.
Don't live in Arcata? Well we'll be damned if they aren't having a similar Bike to Work Day in Eureka next Wednesday. Pump up them tires, relearn your signals and pedal, HumCo!
As far as tonight goes, it's Sci-Fi Pint and Pizza Night up at the Arcata Theatre Lounge. We know you've learned not to get hung up on the plots of the schlock they screen up there. So we'll just calmly embed the trailer to Phantom From Space (1953) below and slowly step away from Wednesday's Lowdown.
--Andrew Goff
The Lowdown Fun Committee
Andy Approves
Events
Movie Showtimes
Broadway Cinema
AMAZING SPIDER MAN 2 2D: 11:30, 12:15, 2:40, 6:00, 7:45, 9:20
AMAZING SPIDER MAN 2 3D: 1:50, 5:15, 8:35
BEARS: 1:00, 3:15, 5:25
BRICK MANSIONS: 2:10, 4:30, 6:55, 7:15, 9:25
CAPTAIN AMERICA: THE WINTER SOLDIER 2D: 11:40, 2:50, 5:55, 9:00
DIVERGENT: 12:50, 6:35
GOD S NOT DEAD: 2:00, 7:00
GRAND BUDAPEST HOTEL: 12:30, 3:05, 5:40, 8:15
HAUNTED HOUSE 2: 4:45, 9:45
HEAVEN IS FOR REAL: 12:35, 3:25, 6:15, 8:45
OTHER WOMAN: 12:45, 3:35, 6:20, 9:05
QUIET ONES: 3:55, 9:40
RIO 2 2D: 12:10, 2:55, 5:35, 8:10
TRANSCENDENCE: 3:30, 6:25, 9:10
Mill Creek Cinema
AMAZING SPIDER MAN 2 2D: 2:45, 6:00, 9:15
AMAZING SPIDER MAN 2 3D: 4:50, 8:10
BEARS: 4:20
BRICK MANSIONS: 4:45, 7:10, 9:30
CAPTAIN AMERICA: THE WINTER SOLDIER 2D: 6:05, 9:05
CAPTAIN AMERICA: THE WINTER SOLDIER 3D: 2:55
HEAVEN IS FOR REAL: 3:15, 5:50, 8:25
OTHER WOMAN: 3:35, 6:15, 8:55
RIO 2 2D: 3:05, 5:40, 8:15
TRANSCENDENCE: 6:30, 9:20
Minor Theatre
AMAZING SPIDER MAN 2 2D: 5:20, 8:40
GRAND BUDAPEST HOTEL: 4:10, 6:40, 9:10
LE WEEK-END: 3:40, 6:00, 8:20