HSU Is Just Giving Away Dances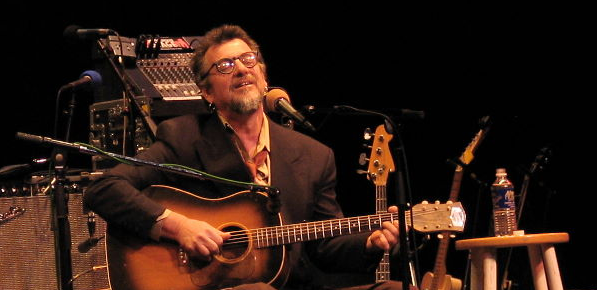 (Above: A famous musician.)
Tonight up at the Van Duzer Theatre, a man who really needs no hype …
OK, that's out of the way. Moving on.
You'll recall yesterday we shamelessly devoted our Lowdown space to a colleague hosting an event. Today lightning strikes twice. Our KHUM radio friend Mike Dronkers will be overseeing proceedings up at HSU's somewhat ambitiously titled Dance of the Century, the culmination of the school's year of centennial celebratin'. HSU apparently feels fine with losing money on this free event which will feature raffle prizes, DJs Pressure/Anya, karaoke, dance performances, special screenings of the Centennial Documentary, a photo booth, games and free food (did you hear that last part, students?). Oh, and you're supposed to dress like your fav decade.
Like yesterday, we're going to let the people involved pitch it. Take it away, Dronk:
"A blizzard of instagrams." Wonderful. Other Friday options in your Lowdown below.
-Andrew Goff
The Lowdown Fun Committee
Andy Approves
Events
Dance of the Century
Lumberjack Arena / 8 p.m.
Celebrate the culmination of Humboldt State's Centennial Celebration with music, games, food and raffle prizes being given away every 30 minutes. Dress in your favorite decade. Emceed by Mike Dronkers.
View Comments
Movie Showtimes
Broadway Cinema
BEARS: 12:00, 2:15, 4:25, 6:35, 8:45
BRICK MANSIONS: 1:55, 4:30, 6:55, 9:20
CAPTAIN AMERICA: THE WINTER SOLDIER 2D: 11:50, 2:50, 5:55, 9:00
DIVERGENT: 2:35, 8:25
DRAFT DAY: 12:05, 5:45
GOD S NOT DEAD: 12:35, 6:05
GRAND BUDAPEST HOTEL: 1:45, 4:20, 6:50, 9:25
HAUNTED HOUSE 2: 12:30, 2:45, 5:10, 7:25, 9:40
HEAVEN IS FOR REAL: 12:40, 3:20, 6:00, 8:35
OCULUS: 3:25, 8:50
OTHER WOMAN: 12:45, 3:30, 6:20, 9:05
QUIET ONES: 2:05, 4:35, 7:05, 9:35
RIO 2 2D: 12:15, 2:55, 5:35, 8:10
TRANSCENDENCE: 12:25, 3:15, 6:15, 9:10
Mill Creek Cinema
BEARS: 12:05, 2:15, 4:25, 6:35, 8:40
BRICK MANSIONS: 12:10, 2:30, 4:50, 7:10, 9:30
CAPTAIN AMERICA: THE WINTER SOLDIER 2D: 12:00, 6:00, 9:00
CAPTAIN AMERICA: THE WINTER SOLDIER 3D: 3:00
HAUNTED HOUSE 2: 12:25, 2:40, 4:55, 7:15, 9:35
HEAVEN IS FOR REAL: 12:40, 3:20, 5:55, 8:30
OTHER WOMAN: 12:55, 3:35, 6:20, 9:05
RIO 2 2D: 12:35, 3:10, 5:45, 8:20
TRANSCENDENCE: 12:50, 3:40, 6:30, 9:20
Minor Theatre
CAPTAIN AMERICA: THE WINTER SOLDIER 2D: 5:45, 8:50
GRAND BUDAPEST HOTEL: 4:10, 6:40, 9:10
TRANSCENDENCE: 3:25, 6:10, 9:00