Friday's Lowdown: Rainbow Spaceships, Soul, Honk and Tonk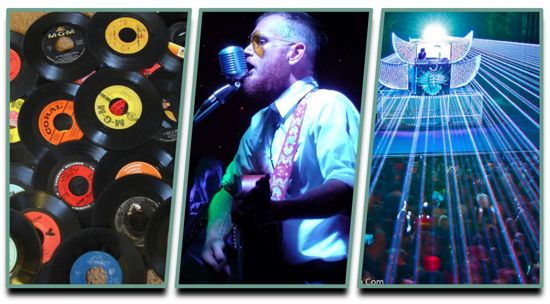 It's that day when you're supposed to go out and do stuff. Here is some stuff you could go do:
The most eyeball-demanding visual cacophony in the county tonight will be found onstage at the Arcata Theatre Lounge where beat wizard Shpongle presides over the swaying masses from within his DJ booth/colored light-powered spaceship. Seriously, you really need to see all the over-the-topness that is the Shpongletron 3.0 … and you can in the video below.
If you caught The Hill on KHUM yesterday (or saw them in this video), you heard a group of musicians challenging for the title of Humboldt's honky tonkiest band. (Look out, Rooster.) Tonight they grow their legend by entertaining The Logger Bar congregation.
If you need to dance out some aggression after Arts Arcata, HumBrews will host Soul Night 29 Friday night. Twenty-nine! Note to the guys at Missing Link Records: It's really time to go the Super Bowl/Wrestlemania/Rocky roman numeral route with these things. See y'all next month at Soul Night XXX.
Plenty of more joy in your Friday Lowdown below. Also, be sure to check out tomorrow's packed listings and Monday's St. Patrick's Day proceedings. Yay, fun.
-Andrew Goff
The Lowdown Fun Committee
Godlin Gets Behind
Events
Movie Showtimes
Broadway Cinema
300: RISE OF AN EMPIRE 2D: 1:15, 3:55, 6:35, 9:15
300: RISE OF AN EMPIRE 3D: 12:45, 3:25, 6:05, 8:45
3 DAYS TO KILL: 12:00, 2:45, 5:35, 8:20
FROZEN 2D: 12:30, 3:05
LEGO MOVIE 2D: 12:15, 2:50, 5:20, 7:50
MONUMENTS MEN: 12:05, 3:00, 5:50, 8:40
MR PEABODY AND SHERMAN 2D: 12:00, 2:30, 4:55, 5:40, 7:25, 8:00
MR PEABODY AND SHERMAN 3D: 1:50, 4:25
NEED FOR SPEED 2D: 12:20, 3:20, 6:20, 9:20
NEED FOR SPEED 3D: 2:20, 5:30, 8:30
NON-STOP: 12:55, 3:35, 6:15, 8:55
POMPEII 3D: 6:55, 9:30
SON OF GOD: 11:50, 2:55, 6:00, 9:05
Mill Creek Cinema
300: RISE OF AN EMPIRE 2D: 12:20, 12:50, 3:00, 5:35, 6:30, 8:15
300: RISE OF AN EMPIRE 3D: 3:45, 9:20
LEGO MOVIE 2D: 12:15, 2:50, 5:20, 7:50
MR PEABODY AND SHERMAN 2D: 12:35, 2:25, 3:10, 5:40, 8:05
MR PEABODY AND SHERMAN 3D: 12:00, 4:55, 7:25
NEED FOR SPEED 2D: 3:30, 9:10
NEED FOR SPEED 3D: 12:45, 6:25
NON-STOP: 1:00, 3:35, 6:15, 8:50
SON OF GOD: 2:00, 5:15, 8:30
Minor Theatre
2014 OSCAR NOMINATED LIVE ACTION SHORT FILMS: 3:30, 6:05, 8:45
300: RISE OF AN EMPIRE 2D: 3:50, 6:30, 9:10
AMERICAN HUSTLE: 5:10, 8:20