You: "I Want To Do Something Thursday Night"; Us: "Here"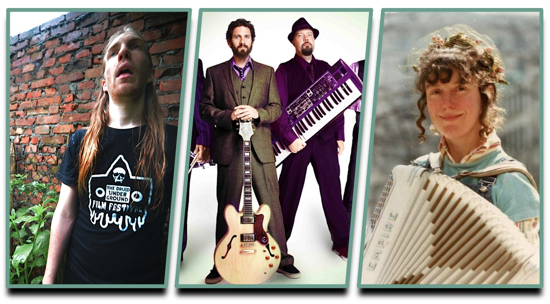 Your Humboldt Thursday gallivanting options are varied and tasty:
Up at the Arcata Theatre Lounge, 'tis the return of the Druid Underground Film Festival, a night set aside annually for visual weirdness/art. Please note that the preview clip for the event (below) was uploaded to Vimeo and not YouTube. This is how you know these are legit film people.
Feet that gather at HumBrews will likely have difficulty remaining still due to the efforts of soul/funk/rock party starters Jelly Bread. They be groovin'.
Indie is a somehow simultaneously useful and useless term. On a related note, The Siren's Song Tavern has a triple shot of performances tonight from The Space Lady (SF squeezebox-totin' busker), Ensemble Economique (locally based soundscape architect) and Blood Gnome (there are

two

THREE keyboards).
-Andrew Goff
The Lowdown Fun Committee
Godlin Gets Behind
Events
Movie Showtimes
Broadway Cinema
300: RISE OF AN EMPIRE 2D: 1:15, 3:55, 6:35, 9:15
300: RISE OF AN EMPIRE 3D: 12:45, 3:20, 6:05, 8:45
3 DAYS TO KILL: 12:00, 2:45, 5:35, 8:20
FROZEN 2D: 1:30, 4:05
LEGO MOVIE 2D: 12:15, 1:45, 2:50, 5:20
LEGO MOVIE 3D: 4:20
MONUMENTS MEN: 12:05, 3:00, 5:50, 8:40
MR PEABODY AND SHERMAN 2D: 12:00, 2:30, 3:10, 4:55, 5:40, 7:25, 8:05
MR PEABODY AND SHERMAN 3D: 12:35
NEED FOR SPEED 3D: 8:00
NON-STOP: 12:55, 3:35, 6:15, 8:55
PHILOMENA: 2:15, 4:45
POMPEII 2D: 9:30
POMPEII 3D: 6:55
RIDE ALONG: 7:10, 9:35
ROBOCOP: 6:40, 9:25
SON OF GOD: 11:50, 2:55, 6:00, 9:05
Mill Creek Cinema
300: RISE OF AN EMPIRE 2D: 3:20, 6:05, 8:45
300: RISE OF AN EMPIRE 3D: 3:55, 6:35, 9:15
LEGO MOVIE 2D: 2:45, 5:20
MONUMENTS MEN: 5:50
MR PEABODY AND SHERMAN 2D: 3:10, 5:40, 8:05
MR PEABODY AND SHERMAN 3D: 4:55, 7:25
NEED FOR SPEED 3D: 8:00
NON-STOP: 3:35, 6:15, 8:55
POMPEII 2D: 8:40
POMPEII 3D: 3:15
SON OF GOD: 2:55, 6:00, 9:05
Minor Theatre
300: RISE OF AN EMPIRE 2D: 3:50, 6:30, 9:10
AMERICAN HUSTLE: 5:10, 8:20
HER: 3:25, 8:50
PHILOMENA: 6:20