Thursday Lowdown: Reggae is Here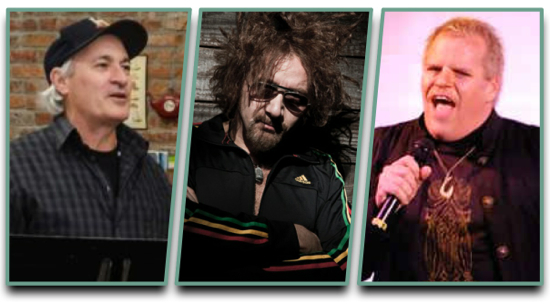 Look out, SoHum. They're coming.
Early ticket holders for Reggae on the River will begin descending in droves upon French's Camp Thursday for the beginning of this year's festival. First day headliners include Gaudi (pictured), as well as Jahden Blakkamoore, Winstrong and more. If you slacked and have not secured tickets to Reggae yet, first, thank you for perpetuating stereotypes, and second you can still snag all-weekend and/or single-day passes at the ROTR website
A little closer to HumCo's population hubs are a pair of spoken word-ish events. First, local raconteur Jeff DeMark leads a cadre of storytellers for a makeshift variety show inside Dell'Arte's Big Hammer Tent titled Acting on a Dream: Summer Stories, Songs and Wild Left Turns. Elsewhere, Jambalaya hosts nationally syndicated progressive talk radio host and occasional standup Karel who promises a "non-stop assault on the senses." Guard your senses, kids.
Lots more Thursday-ness in your Lowdown listings below.
--Andrew Goff
The Lowdown Fun Committee
Godlin Gets Behind
Events
Movie Showtimes
Broadway Cinema
22 JUMP STREET: 6:20, 9:15
AMERICA: 12:50, 3:30, 6:10, 8:50
AND SO IT GOES: 12:55, 3:25, 5:55, 8:25
DAWN OF THE PLANET OF THE APES 2D: 12:00, 6:00, 9:00
DAWN OF THE PLANET OF THE APES 3D: 3:00
EARTH TO ECHO: 11:55
GUARDIANS OF THE GALAXY 2D: 9:30
GUARDIANS OF THE GALAXY 3D: 7:00
HERCULES 2D: 4:00, 9:10
HERCULES 3D: 1:25, 6:35
HOW TO TRAIN YOUR DRAGON 2 2D: 1:10, 3:50
LUCY: 12:10, 2:30, 4:50, 7:15, 9:40
MALEFICENT 2D: 12:05, 2:35, 5:05, 7:30
PLANES: FIRE AND RESCUE 2D: 11:50, 2:00, 4:15, 6:30, 8:45
PURGE: ANARCHY: 1:35, 4:10, 6:50, 9:30
SEX TAPE: 2:05, 4:30, 7:00, 9:25
TAMMY: 1:20, 3:45, 6:15, 8:40
TRANSFORMERS: AGE OF EXTINCTION 3D: 2:15
Mill Creek Cinema
AND SO IT GOES: 12:55, 3:25, 5:50, 8:20
DAWN OF THE PLANET OF THE APES 2D: 12:00, 3:00, 6:00, 9:00
GUARDIANS OF THE GALAXY 2D: 9:30
GUARDIANS OF THE GALAXY 3D: 7:00
HERCULES 2D: 1:05, 3:40, 6:15
HERCULES 3D: 8:50
LUCY: 11:55, 1:55, 4:20, 6:45, 9:10
PLANES: FIRE AND RESCUE 2D: 11:50, 2:00, 4:15, 6:30, 8:40
PURGE: ANARCHY: 1:30, 4:05, 6:40, 9:20
SEX TAPE: 2:10, 4:35, 7:05, 9:30
TAMMY: 1:10, 3:30
Minor Theatre
BEGIN AGAIN: 4:20, 6:50, 9:20
CHEF: 3:50, 6:30, 9:10
DAWN OF THE PLANET OF THE APES 2D: 3:15, 6:05, 9:00