Kyle Gass = Good; Bela Fleck = Good; 'Turkish Star Wars' = Bad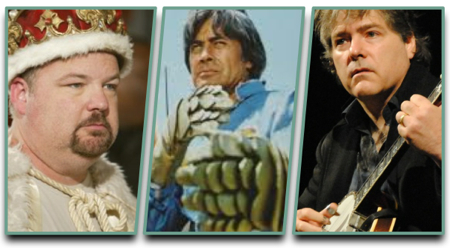 (Above: Wednesday's stars.)
As they do from time to time, Arcata has hijacked all the fun for themselves. Your Humboldt Wednesday centers there:
The half of Tenacious D who has starred in fewer major motion pictures rerolls through A-Town tonight. While Kyle Gass Band shows feature humorous between-song banter, the overriding theme here is just straight-up, kickass rock 'n' roll. It wasn't too many months ago the KGB was last at HumBrews. My friend Will says its the best show he's seen there. Big talk.
Are you swayed by one of the best banjo players in the world entering our fair county? How 'bout two of 'em? Béla Fleck and Abigail Washburn have no qualms against claiming to being that damn good. Discerning Humboldt banjo enthusiasts can judge for themselves tonight at the Van Duzer Theatre.
And finally, your Lowdown loves us some Sci-Fi Pint and Pizza Night, the Arcata Theatre Lounge's mostly weekly crap cinema slot. They've really outdone themselves this week: the ATL is trotting out the Turkish Sci-Fi film Dünyayı Kurtaran Adam (The Man Who Saved the World) (1982) which is commonly referred to as "Turkish Star Wars" since the film makers thought they'd just sneak in some of George Lucas's more-polished footage to make their low-budget "ugh"-fest shinier. Brilliant. See an unauthorized trailer for the unauthorized film below.
--Andrew Goff
The Lowdown Fun Committee
Godlin Gets Behind
Events
Béla Fleck and Abigail Washburn
Van Duzer Theater / 8 p.m. / $55 / $25 HSU students
"Several years ago, contemporary progressive banjo pioneer, Béla Fleck and the singing, songwriting, Chinese speaking, clawhammer-style virtuoso, Abigail Washburn got married—an event that celebrated the union of two of the world's best banjo players."
826-3928 / Web site / View Comments
Kyle Gass Band
Humboldt Brews / 9 p.m. / $15 / 21+
"What does KG do when he's not playing with the Greatest Band in the World? He assembles an otherworldly super-team of badass dudes to back him up in his own project."
826-2739 / Web site / View Comments
Movie Showtimes
Broadway Cinema
AMAZING SPIDER MAN 2 2D: 11:55, 2:25, 5:45, 9:05
AMAZING SPIDER MAN 2 3D: 1:35, 4:55, 8:15
BEARS: 1:10, 3:20
BRICK MANSIONS: 4:50, 9:40
CAPTAIN AMERICA: THE WINTER SOLDIER 2D: 2:05, 5:15, 8:25
DIVERGENT: 12:45, 6:35
GOD S NOT DEAD: 2:15, 7:05
GRAND BUDAPEST HOTEL: 5:30, 7:55
HEAVEN IS FOR REAL: 12:00, 3:45, 6:15, 8:45
LEGENDS OF OZ: DORTHY S RETURN 2D: 12:05, 3:10, 5:35, 8:00
LEGENDS OF OZ: DORTHY S RETURN 3D: 1:25
NEIGHBORS: 1:00, 2:00, 3:30, 4:30, 6:00, 7:00, 8:30, 9:30
OTHER WOMAN: 12:55, 3:40, 6:30, 9:15
QUIET ONES: 3:55, 9:45
RIO 2 2D: 12:10, 2:45, 5:20, 7:50
Mill Creek Cinema
AMAZING SPIDER MAN 2 2D: 2:45, 6:00, 9:15
AMAZING SPIDER MAN 2 3D: 5:30, 8:45
CAPTAIN AMERICA: THE WINTER SOLDIER 2D: 6:05, 9:05
CAPTAIN AMERICA: THE WINTER SOLDIER 3D: 2:55
HEAVEN IS FOR REAL: 3:20, 5:50, 8:20
LEGENDS OF OZ: DORTHY S RETURN 2D: 3:50, 6:15, 8:30
LEGENDS OF OZ: DORTHY S RETURN 3D: 3:15
NEIGHBORS: 4:30, 7:00, 9:30
OTHER WOMAN: 4:05, 6:45, 9:25
RIO 2 2D: 3:05, 5:40, 8:15
Minor Theatre
AMAZING SPIDER MAN 2 2D: 5:20, 8:40
FADING GIGOLO: 4:05, 6:30, 8:55
GRAND BUDAPEST HOTEL: 4:15, 6:45, 9:10