Lowdown: Shook Twin Side Project in Arcata Tonight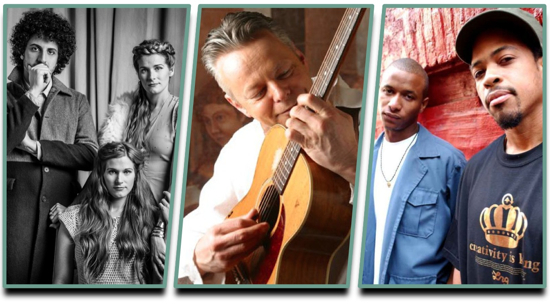 We want to begin today's Lowdown by imploring all Humboldt theater fans to check out your Lost Coast Outpost's new column From the Peanut Gallery by Claudia Guerrero which dropped online this morning with a phallic reference-peppered review of NCRT's latest production of Oedipus the King and Women in Congress (which continues tonight). You'll all agree LoCO needed more drama.
As far as tonight goes, crap, there's a lot going on. Some brief highlights:
The much-adored Shook Twins sneak back into Humboldt touring with their more jazzy side project Morning Ritual, a collaboration with PDX-based composer Ben Darwish. Humboldt has an opportunity to get more intimate than usual with the ladies -- the show takes place in the cozy Robert Goodman Winery Tasting Room. Sample the groups alluring harmonies in the clip below.
High-energy alternative hip hop duo Zion I return to Humboldt in support of their latest album Shadowboxing. Catch their unique rhymes and beats onstage at the Arcata Theatre Lounge where they'll share the stage with Seattle's rising star SOL.
If you need a reminder of what a fretboard magician Australian-born Tommy Emmanuel is you could 1) catch him tonight at the Van Duzer Theatre where he'll share the stage with Martin Taylor or 2) take another listen to his appearance on KHUM's Upstage Live.
Many, many more options for those unopposed to page scrolling in your Friday Lowdown below.
-Andrew Goff
The Lowdown Fun Committee
Godlin Gets Behind
Events
Tommy Emmanuel
Van Duzer Theater / 8 p.m. / $35 / $15 HSU students
"Expect plenty of fretboard fireworks in this special duo performance, as Tommy joins forces with Martin Taylor, one of the world's foremost exponents of solo fingerstyle guitar playing."
826-3928 / Web site / View Comments
Movie Showtimes
Broadway Cinema
12 YEARS A SLAVE: 4:45
AUGUST: OSAGE COUNTY: 12:10, 3:05, 6:00, 8:55
DALLAS BUYERS CLUB: 12:05, 3:00, 5:50, 8:40
FROZEN 2D: 12:15, 5:35
FROZEN SING A LONG: 2:50, 8:10
HOBBIT: THE DESOLATION OF SMAUG 2D: 1:15
HOBBIT: THE DESOLATION OF SMAUG 3D: 7:50
I FRANKENSTEIN 2D: 2:20, 7:05
I FRANKENSTEIN 3D: 12:00, 4:40, 9:30
JACK RYAN: SHADOW RECRUIT: 1:10, 3:50, 6:30, 9:15
LABOR DAY: 12:35, 3:15, 5:55, 8:35
LONE SURVIVOR: 12:20, 3:10, 6:05, 9:00
NUT JOB 2D: 2:05, 4:20, 6:35
NUT JOB 3D: 11:50, 8:45
RIDE ALONG: 1:55, 4:25, 6:55, 9:25
THAT AWKWARD MOMENT: 1:40, 4:10, 6:40, 9:10
WOLF OF WALL STREET: 12:10, 4:05, 8:00
Mill Creek Cinema
FROZEN 2D: 3:15
FROZEN SING A LONG: 12:35, 5:25
GRAVITY 3D: 3:20, 9:00
HOBBIT: THE DESOLATION OF SMAUG 2D: 12:00, 5:35
JACK RYAN: SHADOW RECRUIT: 1:25, 4:00, 6:35, 9:10
LONE SURVIVOR: 12:15, 3:05, 6:00, 8:55
NUT JOB 2D: 1:10, 3:30, 5:45
NUT JOB 3D: 7:55
RIDE ALONG: 1:45, 4:15, 6:45, 9:15
SAVING MR BANKS: 5:55, 8:45
THAT AWKWARD MOMENT: 2:00, 4:30, 7:00, 9:30
WOLF OF WALL STREET: 1:35, 8:00
Minor Theatre
HER: 3:10, 6:00, 8:50
LABOR DAY: 3:50, 6:30, 9:10
NEBRASKA: 3:00, 5:40, 8:20