If You Have $5 To Spend Thursday Night ...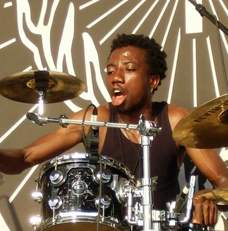 We know, you usually like to reserve to the weekends for ass shaking. However, having to drag your sore, exhausted keister into the cracker factory this Friday morning might just be worth it for a $5 Thursday night at Jambalaya with party-leading drummer Paa Kow and the Afro-fusion dancesplosion By All Means Band. Now, the YouTube video of the band working out on their song "Realize" embedded above is 13 minutes, which is way too long for you to care about watching on your monitor/smart phone. So only watch, like, a minute of it to get the gist of the level of fun zay bring then go see actual live music tonight.
Or! Remember there's a fair goin' on in Ferndale. Also, peruse the selections in your Thursday Lowdown below.
(Note: Have you noticed that "Larry Likes" has been somewhat unmotivated lately? Will someone get him off the couch and onto the Gravitron already? Geez. He can keep the rumpleminze.)
-Andrew Goff
THURSDAY UPDATE: Today's Food For People free produce market has been cancelled, LoCO has been informed via email. FFP writes:
The truck that delivers our produce was not able to make it today so our free produce market is cancelled. We are very sorry for the inconvenience, and will try to reschedule if possible. Information about an alternative date will be posted on Food for People's website and facebook page as it becomes available.
The Lowdown Fun Committee
Larry Likes
Events
Movie Showtimes
Broadway Cinema
2 GUNS: 1:25, 4:05, 6:45, 9:25
CONJURING: 9:10
DESPICABLE ME 2 2D: 1:40, 4:10, 6:40
ELYSIUM: 12:40, 3:25, 6:15, 7:35, 9:00
GROWN UPS 2: 1:50, 7:05
KICK-ASS 2: 8:00
LEE DANIELS THE BUTLER: 9:00
PERCY JACKSON: SEA OF MONSTERS 2D: 12:50, 6:10
PERCY JACKSON: SEA OF MONSTERS 3D: 3:30, 8:50
PLANES 2D: 12:00, 4:40, 7:00
PLANES 3D: 2:20, 9:10
RED 2: 12:10, 2:55, 5:40, 8:30
SMURFS 2 2D: 11:50, 12:30, 2:25, 3:10, 5:00, 5:50
THE HEAT: 4:20, 9:30
TURBO 2D: 12:20, 2:45, 5:10
WE RE THE MILLERS: 1:00, 3:45, 6:30, 7:45, 9:15
WOLVERINE 2D: 11:55, 6:05, 9:10
WOLVERINE 3D: 3:00
Mill Creek Cinema
2 GUNS: 1:30, 4:10, 6:50, 9:30
DESPICABLE ME 2 2D: 2:55
ELYSIUM: 1:10, 3:50, 6:35, 9:20
KICK-ASS 2: 8:00
LEE DANIELS THE BUTLER: 9:00
PERCY JACKSON: SEA OF MONSTERS 2D: 12:45, 6:05
PERCY JACKSON: SEA OF MONSTERS 3D: 3:30, 8:40
PLANES 2D: 12:55, 3:20, 5:50
PLANES 3D: 8:15
SMURFS 2 2D: 12:20, 3:00, 5:40
TURBO 2D: 12:30, 5:25
WE RE THE MILLERS: 1:00, 3:40, 6:20, 9:00
WOLVERINE 2D: 12:05, 3:05, 6:10, 9:10
Minor Theatre
2 GUNS: 3:45, 6:20, 9:00
ELYSIUM: 3:35, 6:10, 8:45