Hey! Fair Starts Today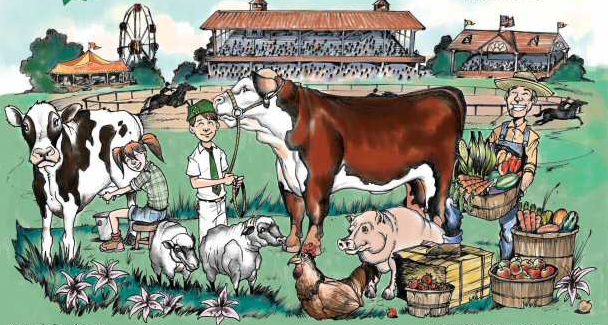 Over the next ten days, a higher-than-average number of Humboldtians will venture across Fernbridge to, among other things, ride The Zipper, test their ability to pick a winning horse and eat copious amounts of foods most doctors would agree they shouldn't.
That's right, kids. The 117th Humboldt County Fair kicks off today and runs through Sunday, Aug. 25 featuring more stuff than we can list here. Well, in addition to the to-be-expected rides, races and grub alluded to above, we'll try to list a few:
The Abuhadba Family will bring their dancing, brightly colored Cartoon Poodles to perform for the gathered masses. (Aug. 14-18)
The Incredible Acrobats of China will perform eye-popping tumbling, balancing contorting feats. (Aug. 19-25)
Members of the Nerveless Nocks Thrill Show will perform death-defying motorcycle stunts in a spherical cage and on tighterope. (Aug. 20-25).
Mexican grappling arts will be on display when the warriors of Lucha Libre Mexicana perform. (Aug. 25)
Yes, WowBalls.
Local bands will grace the main stage for evening concerts every night of the fair.
Oh, and there's zip lines, and petting zoos and NASCAR stuff to look at. You get it. Family fin will be had by all. Poke around the fair's website for a complete list and descriptions of goings-ons. Or check out your other options in Wednesday's Lowdown below.
-Andrew Goff
The Lowdown Fun Committee
Larry Likes
Events
Junior Toots
Humboldt Brews / 9:30 p.m. / $12 / 21+
"My father's contribution to reggae music has been a great inspiration. I want to be an inspiration for the next generation of Hibberts." - Junior Toots
826-2739 / Web site / View Comments
Movie Showtimes
Broadway Cinema
2 GUNS: 1:25, 4:05, 6:45, 9:25
CONJURING: 9:10
DESPICABLE ME 2 2D: 1:40, 4:10, 6:40
ELYSIUM: 12:40, 3:25, 6:15, 7:35, 9:00
GROWN UPS 2: 1:50, 7:05
PERCY JACKSON: SEA OF MONSTERS 2D: 12:50, 6:10
PERCY JACKSON: SEA OF MONSTERS 3D: 3:30, 8:50
PLANES 2D: 12:00, 4:40, 7:00
PLANES 3D: 2:20, 9:10
RED 2: 12:10, 2:55, 5:40, 8:30
SMURFS 2 2D: 11:50, 12:30, 2:25, 3:10, 5:00, 5:50, 8:25
THE HEAT: 4:20, 9:30
TURBO 2D: 12:20, 2:45, 5:10
WE RE THE MILLERS: 1:00, 3:45, 6:30, 7:45, 9:15
WOLVERINE 2D: 11:55, 6:05, 9:10
WOLVERINE 3D: 3:00
Mill Creek Cinema
2 GUNS: 1:30, 4:10, 6:50, 9:30
DESPICABLE ME 2 2D: 2:55, 7:50
ELYSIUM: 1:10, 3:50, 6:35, 9:20
PERCY JACKSON: SEA OF MONSTERS 2D: 12:45, 6:05
PERCY JACKSON: SEA OF MONSTERS 3D: 3:30, 8:40
PLANES 2D: 12:55, 3:20, 5:50
PLANES 3D: 8:15
SMURFS 2 2D: 12:20, 3:00, 5:40, 8:10
TURBO 2D: 12:30, 5:25
WE RE THE MILLERS: 1:00, 3:40, 6:20, 9:00
WOLVERINE 2D: 12:05, 3:05, 6:10, 9:10
Minor Theatre
2 GUNS: 3:45, 6:20, 9:00
ELYSIUM: 3:35, 6:10, 8:45
WE RE THE MILLERS: 3:55, 6:35, 9:15