Reggie Watts is Sold Out ... Here are Other Thursday Distractions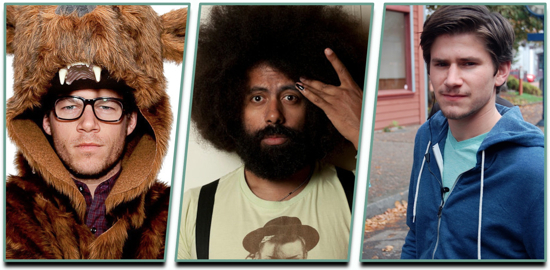 (Thursday's MVPs: GRiZ, Watts, DeSoto)
Of course the brightest star in Humboldt's Thursday night sky will shine from the stage of the Van Duzer Theatre. For those of you that had the foresight to earlybird tickets for the sold out Reggie Watts show, three things:
1) Well done.
2) Be sure to presume with DJ Myles Cochrane when he interviews Watts about all things on KSLG at 4 p.m.
3) Give LoCO your ticket.
Oh well. The rest of us slackers need not worry. There's plenty of distraction still to be had, for example:
We're giving Thursday the seal of variety. Even more options in your Lowdown below.
-Andrew Goff
The Lowdown Fun Committee
Andy Approves
Events
Reggie Watts
Van Duzer Theater / 8 p.m. / $45 / $15 HSU students
Spectacularly original comedian/musician/performance artist Reggie Watts spins out riotous, stream of consciousness monologues laced with improvised songs he creates on-the-spot, using only his voice and a looping machine.
826-3928 / Web site / View Comments
Movie Showtimes
Broadway Cinema
CAPTAIN PHILLIPS: 11:55, 2:50, 5:55, 9:00
CLOUDY WITH A CHANCE OF MEATBALLS 2 2D: 12:05, 2:40, 3:45, 5:10, 7:40
CLOUDY WITH A CHANCE OF MEATBALLS 2 3D: 1:25, 6:10
DON JON: 12:00, 2:20, 4:40, 7:05, 9:35
GRAVITY 2D: 2:00, 6:45
GRAVITY 3D: 12:45, 3:10, 4:20, 5:35, 8:00, 9:10
INSIDIOUS CHAPTER 2: 1:10, 3:55, 6:35, 9:20
MACHETE KILLS: 1:30, 4:10, 6:50, 9:30
PRISONERS: 1:15, 4:50, 8:20
RIDDICK: 12:10, 5:45
RUNNER RUNNER: 1:45, 4:05, 6:30, 8:50
RUSH: 12:15, 3:15, 6:15, 9:15
THE FAMILY: 3:00, 8:40
WE RE THE MILLERS: 8:35
Mill Creek Cinema
CAPTAIN PHILLIPS: 5:20, 8:30
CLOUDY WITH A CHANCE OF MEATBALLS 2 2D: 3:45, 6:15
CLOUDY WITH A CHANCE OF MEATBALLS 2 3D: 8:40
DON JON: 4:20, 6:40, 9:00
GRAVITY 2D: 4:40
GRAVITY 3D: 7:00, 9:20
MACHETE KILLS: 3:50, 6:30, 9:10
PRISONERS: 4:55, 8:20
RUNNER RUNNER: 4:50, 7:15, 9:35
RUSH: 3:00, 5:55, 8:50
Minor Theatre
CAPTAIN PHILLIPS: 5:35, 8:40
ENOUGH SAID: 4:25, 6:45, 9:10
GRAVITY 2D: 4:40, 7:00, 9:20