Before You See Him at the Mateel, Please Define Hank 3's Music For LoCO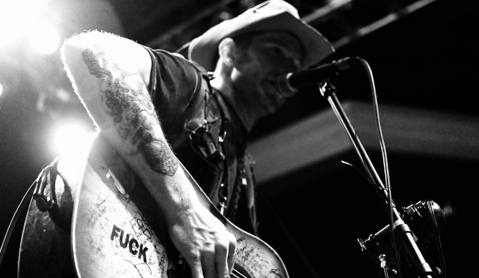 It's all too common in the music biz for bands to promote themselves by acting as though they are just not up to the task of describing the music they play. Or worse, when they give you some long-ass, unhelpful made-up genre. Generally, your Lost Coast Outpost ain't buying' it. C'mon, band, you could have easily shortened "ambient aggrotech cybergrind folk pop" into the much more understandable genre "unlistenable." That would have served us better.
But then there's Hank 3, who we mention here because, of course, he'll be at the Mateel Community Center Wednesday night. That dude is actually kinda hard to define in that he floats between genres so regularly. Proof? Well, just a couple weeks ago, the guy simultaneously released two very different sounding albums. We'll let Hank (via his website) describe 'em:
On Brothers of the 4X4: "It's a traditional country record, it's got your slow country songs if you need to get some bad emotions out. It's got a couple of, you know, the not as sad kind of songs and a couple of songs that just aren't really country but they're kind of folky soundin'."
On A Fiendish Threat: "It's done on an acoustic guitar with a little bit of fuzz on it and a stand-up bass beatin' it down, it's a different singin' voice for me. A lot of people who've known me for 10 years say, 'Man, if you hadn't told me it was you, I wouldn't have guessed. It just doesn't sound like you.' That's a good thing for me. That just means I'm changin' it up."
Musical ADD! Love it. So as much as we whined about the ongoing onslaught of genres invented by musicians, LoCO will now ask you to invent a category for Hank 3's music and leave it on our Facebook page. Best submission wins a job in music PR.
-Andrew Goff
(Below: Two sides of Hank 3.)
The Lowdown Fun Committee
Godlin Gets Behind
Events
Hank 3
Mateel Community Center / 7 p.m. / $25
The king of "Hellbilly" returns! "The grandson of country music legend Hank Williams and the son of Hank Williams Junior, Hank 3 is one of the most prominent musicians to play neotraditional country in a country music market dominated by pop country."
923-3368 / Web site / View Comments
Movie Showtimes
Broadway Cinema
CAPTAIN PHILLIPS: 11:55, 2:50, 5:55, 9:00
CLOUDY WITH A CHANCE OF MEATBALLS 2 2D: 12:05, 2:40, 3:45, 5:10, 7:40
CLOUDY WITH A CHANCE OF MEATBALLS 2 3D: 1:25, 6:10
DON JON: 12:00, 2:20, 4:40, 7:05, 9:35
GRAVITY 2D: 2:00, 6:45
GRAVITY 3D: 12:45, 3:10, 4:20, 5:35, 8:00, 9:10
INSIDIOUS CHAPTER 2: 1:10, 3:55, 6:35, 9:20
MACHETE KILLS: 1:30, 4:10, 6:50, 9:30
PRISONERS: 1:15, 4:50, 8:20
RIDDICK: 12:10, 5:45
RUNNER RUNNER: 1:45, 4:05, 6:30, 8:50
RUSH: 12:15, 3:15, 6:15, 9:15
THE FAMILY: 3:00, 8:40
WE RE THE MILLERS: 8:35
Mill Creek Cinema
CAPTAIN PHILLIPS: 5:20, 8:30
CLOUDY WITH A CHANCE OF MEATBALLS 2 2D: 3:45, 6:15
CLOUDY WITH A CHANCE OF MEATBALLS 2 3D: 8:40
DON JON: 4:20, 6:40, 9:00
GRAVITY 2D: 4:40
GRAVITY 3D: 7:00, 9:20
MACHETE KILLS: 3:50, 6:30, 9:10
PRISONERS: 4:55, 8:20
RUNNER RUNNER: 4:50, 7:15, 9:35
RUSH: 3:00, 5:55, 8:50
Minor Theatre
CAPTAIN PHILLIPS: 5:35, 8:40
ENOUGH SAID: 4:25, 6:45, 9:10
GRAVITY 2D: 4:40, 7:00, 9:20