Saturday, May 4, 2013's Lowdown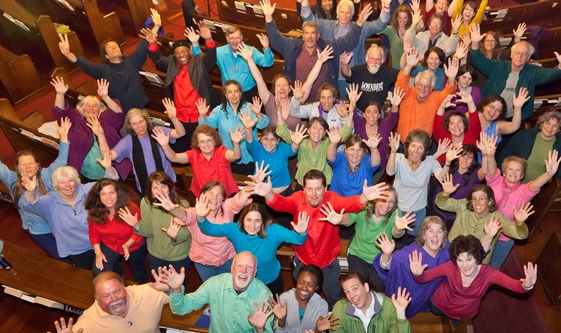 It's Saturday! Can I get an amen?
There will be amens to spare tonight at the Arkley Center when the Arcata Interfaith Gospel Choir, our local 80-plus voice joy army for nearly two decades, gathers round for Rejoicing in Song. The evening will be recorded for future DVD/CD consumption and will also feature blues crooner Earl Thomas and the AIGC Youth Choir.
Other Saturday highlights include Eureka's monthly Arts Alive, the Folklife Society Barn Dance benefit for the Humboldt Music Academy and CASA's Tastes of the World chow down.
Get out. Be community.
-Andrew Goff
The Lowdown Fun Committee
Larry Likes
Events
Arts Alive
Eureka / 6 p.m. / Free
Eureka's monthly stab at getting everyone together! Opening receptions for artists, exhibits, and/or performances.
View Comments
Movie Showtimes
Broadway Cinema
42: 11:50, 2:45, 5:45, 8:45
BIG WEDDING: 12:05, 2:20, 4:40, 7:10, 9:30
EVIL DEAD: 4:30, 9:40
IRON MAN 3 2D: 11:45, 2:50, 5:55, 7:45, 9:00
IRON MAN 3 3D: 12:00, 1:45, 3:05, 4:50, 6:15, 8:00, 9:20
JURASSIC PARK 3D: 2:30, 5:30, 8:30
OBLIVION: 12:20, 2:10, 3:15, 5:15, 6:20, 8:15, 9:15
OLYMPUS HAS FALLEN: 1:35, 6:50
PAIN AND GAIN: 11:55, 3:00, 6:00, 9:05
PLACE BEYOND THE PINES: 2:00, 5:25, 8:35
THE CROODS 2D: 12:10, 2:40, 5:10
Garberville Theater
GI JOE: RETALIATION: 7:30
Mill Creek Cinema
42: 2:20, 5:25, 8:30
BIG WEDDING: 1:45, 4:10, 6:30, 8:50
IRON MAN 3 2D: 12:05, 3:10, 6:15, 8:10, 9:20
IRON MAN 3 3D: 11:45, 2:50, 5:55, 9:00
JURASSIC PARK 3D: 1:25, 6:45
OBLIVION: 11:55, 3:00, 6:00, 9:10
PAIN AND GAIN: 12:15, 3:20, 6:20, 9:25
SCARY MOVIE 5: 4:25, 9:30
THE CROODS 2D: 12:35, 3:05, 5:40
Minor Theatre
IRON MAN 3 2D: 2:20, 5:30, 8:40
MUD: 3:15, 6:10, 9:05
PLACE BEYOND THE PINES: 2:40, 5:45, 8:50