Sunday, May 5, 2013's Lowdown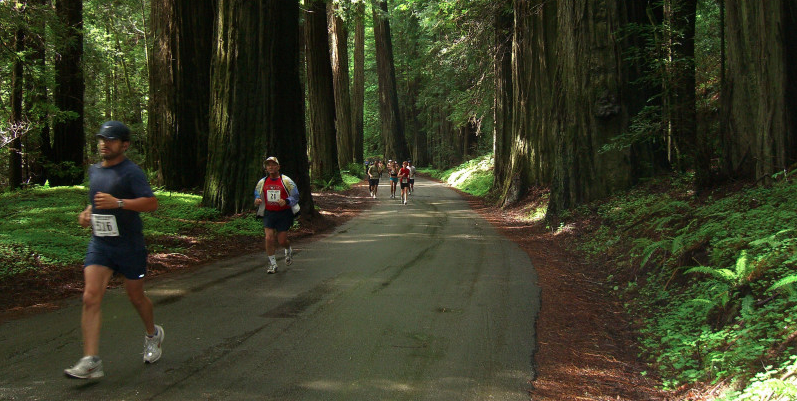 This is not going to go well.
On Sunday, without any advanced training and having only probably ever run five miles at any one time in my life, I'm going to attempt to not vomit all over myself when I run the Avenue of the Giants Marathon. If I die, blame KHUM's Mike Dronkers who was all, "Dude, c'mon." He was very convincing. Now I get to die.
See ya in da trees!
-Andrew Goff
The Lowdown Fun Committee
Larry Likes
Events
Movie Showtimes
Broadway Cinema
42: 11:50, 2:45, 5:45, 8:45
BIG WEDDING: 12:05, 2:20, 4:40, 7:10, 9:30
EVIL DEAD: 4:30, 9:40
IRON MAN 3 2D: 11:45, 2:50, 5:55, 7:45, 9:00
IRON MAN 3 3D: 12:00, 1:45, 3:05, 4:50, 6:15, 8:00, 9:20
JURASSIC PARK 3D: 2:30, 5:30, 8:30
OBLIVION: 12:20, 2:10, 3:15, 5:15, 6:20, 8:15, 9:15
OLYMPUS HAS FALLEN: 1:35, 6:50
PAIN AND GAIN: 11:55, 3:00, 6:00, 9:05
PLACE BEYOND THE PINES: 2:00, 5:25, 8:35
THE CROODS 2D: 12:10, 2:40, 5:10
Garberville Theater
GI JOE: RETALIATION: 7:30
Mill Creek Cinema
42: 2:20, 5:25, 8:30
BIG WEDDING: 1:45, 4:10, 6:30, 8:50
IRON MAN 3 2D: 12:05, 3:10, 6:15, 8:10, 9:20
IRON MAN 3 3D: 11:45, 2:50, 5:55, 9:00
JURASSIC PARK 3D: 1:25, 6:45
OBLIVION: 11:55, 3:00, 6:00, 9:10
PAIN AND GAIN: 12:15, 3:20, 6:20, 9:25
SCARY MOVIE 5: 4:25, 9:30
THE CROODS 2D: 12:35, 3:05, 5:40
Minor Theatre
IRON MAN 3 2D: 2:20, 5:30, 8:40
MUD: 3:15, 6:10, 9:05
PLACE BEYOND THE PINES: 2:40, 5:45, 8:50