Troll 2 Redo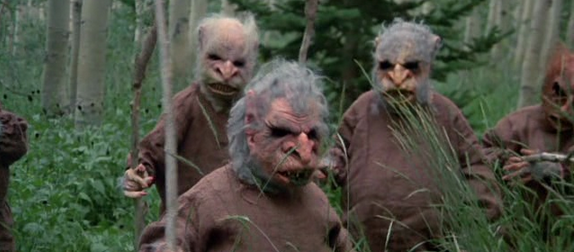 We're gonna try this again.
You may recollect last Wednesday your Lowdown made a big to do about the fact that the Arcata Theatre Lounge was screening Troll 2, one of the worst movies ever birthed. 'Twas gonna be a great time. But then the power went out in Arcata and the Trolling was canceled. Arcata mourned, but the good news is that the ATL is giving it another go tonight.
Oh. My. God.
If making your brain hurt via painful cinema ain't your cup, we'll also note the return of acoustic trio Marty O'Reilly and The Old Soul Orchestra to the Siren's Song Tavern tonight. Last time they rolled through they found themselves immortalized Chuck Johnson's Humboldt Live Sessions. Refresh your memory below and/or tune in to KHUM at 12:30 p.m. to hear the boys live. Your call.
-Andrew Goff
The Lowdown Fun Committee
Godlin Gets Behind
Events
Movie Showtimes
Broadway Cinema
300: RISE OF AN EMPIRE 2D: 1:15, 3:55, 6:35, 9:15
300: RISE OF AN EMPIRE 3D: 12:45, 3:25, 6:05, 8:45
3 DAYS TO KILL: 12:00, 2:45, 5:35, 8:20
FROZEN 2D: 12:30, 3:05
LEGO MOVIE 2D: 12:15, 2:50, 5:20, 7:50
MONUMENTS MEN: 12:05, 3:00, 5:50, 8:40
MR PEABODY AND SHERMAN 2D: 12:00, 2:30, 4:55, 5:40, 7:25, 8:00
MR PEABODY AND SHERMAN 3D: 1:50, 4:25
NEED FOR SPEED 2D: 12:20, 3:20, 6:20, 9:20
NEED FOR SPEED 3D: 2:20, 5:30, 8:30
NON-STOP: 12:55, 3:35, 6:15, 8:55
POMPEII 3D: 6:55, 9:30
SON OF GOD: 11:50, 2:55, 6:00, 9:05
Mill Creek Cinema
300: RISE OF AN EMPIRE 2D: 3:00, 5:35, 6:30, 8:15
300: RISE OF AN EMPIRE 3D: 3:45, 9:20
LEGO MOVIE 2D: 2:50, 5:20, 7:50
MR PEABODY AND SHERMAN 2D: 3:10, 5:40, 8:05
MR PEABODY AND SHERMAN 3D: 4:55, 7:25
NEED FOR SPEED 2D: 3:30, 9:10
NEED FOR SPEED 3D: 6:25
NON-STOP: 3:35, 6:15, 8:50
SON OF GOD: 5:15, 8:30
Minor Theatre
2014 OSCAR NOMINATED LIVE ACTION SHORT FILMS: 3:30, 6:05, 8:45
300: RISE OF AN EMPIRE 2D: 3:50, 6:30, 9:10
AMERICAN HUSTLE: 5:10, 8:20