They Should Have Scheduled This Thursday Night For A Friday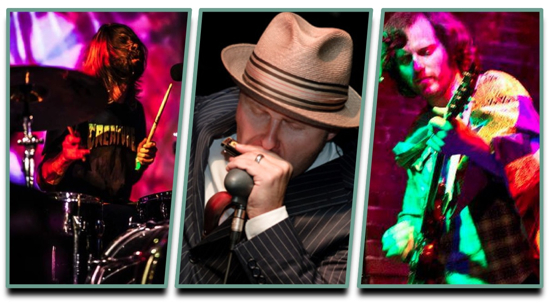 Damn. It feels like there are only rarely whole Humboldt weekends that include as much band-age as this particular Thursday night:
If you've got nothing to do Friday, you might consider staying in Phillipsville tonight. The Riverwood Inn has somehow seduced up the Avenue blues harp player John Nemeth as well as jazz/soul band The Bo-Keys -- the group's various members played on many classic '70s soul albums for artists such as Al Green, Rufus Thomas, Isaac Hayes and the Isley Brothers. (Note: we try not to do the "played with" name drop thing here on the Lowdown, but you'll agree them's some heavies.)
Closer to civilization, Chris Parreira has corralled an indie hat trick at Robert Goodman Wines headlined by earnest Seattle rockers Autumn Electric (see video of their performance from earlier this week on Davis radio station KDVS farther down). Canary and the Vamp and John Ludington open.
Keeping with the triple alt band theme, Jambalaya plays host to Philly "math-pop" duo Pattern is Movement, as well as local groups Neighbors and thelittlestillnotbigenough.
Another rock trifecta -- and the only show we're highlighting attendable by the under 21 set -- head to The Works for White Manna, Tacos and Splinter Cell. We are band rich.
Beat that, Friday. More options in your Lowdown below.
-Andrew Goff
The Lowdown Fun Committee
Mike Mandates
Events
Movie Showtimes
Broadway Cinema
300: RISE OF AN EMPIRE 2D: 1:15, 3:55, 6:35, 9:15
300: RISE OF AN EMPIRE 3D: 12:45, 3:25, 6:05, 8:45
3 DAYS TO KILL: 12:00, 2:45
DIVERGENT: 8:00
FROZEN 2D: 12:30, 3:05
LEGO MOVIE 2D: 12:15, 2:50, 5:20
MONUMENTS MEN: 12:05, 3:00, 5:50, 8:40
MR PEABODY AND SHERMAN 2D: 12:00, 2:30, 4:55, 5:40, 7:25, 8:00
MR PEABODY AND SHERMAN 3D: 1:50, 4:25
MUPPETS MOST WANTED: 7:00
NEED FOR SPEED 2D: 12:20, 3:20, 6:20, 9:20
NEED FOR SPEED 3D: 2:20, 5:30, 8:30
NON-STOP: 12:55, 3:35, 6:15, 8:55
POMPEII 3D: 6:55, 9:30
SON OF GOD: 11:50, 2:55, 6:00, 9:05
Mill Creek Cinema
300: RISE OF AN EMPIRE 2D: 3:00, 5:35, 6:30, 8:15
300: RISE OF AN EMPIRE 3D: 3:45, 9:20
DIVERGENT: 8:00
LEGO MOVIE 2D: 2:50, 5:20
MR PEABODY AND SHERMAN 2D: 3:10, 5:40, 8:05
MR PEABODY AND SHERMAN 3D: 4:55, 7:25
MUPPETS MOST WANTED: 7:00
NEED FOR SPEED 2D: 3:30, 9:10
NEED FOR SPEED 3D: 6:25
NON-STOP: 3:35
SON OF GOD: 5:15, 8:30
Minor Theatre
2014 OSCAR NOMINATED LIVE ACTION SHORT FILMS: 3:30, 6:05, 8:45
300: RISE OF AN EMPIRE 2D: 3:50, 6:30, 9:10
AMERICAN HUSTLE: 5:10, 8:20