Dave Rawlings Machine Added to CenterArts Lineup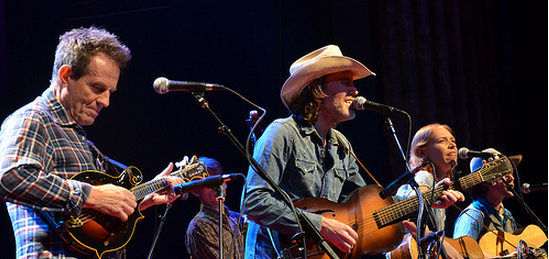 Local fans of dazzling fingers may have already heard, but earlier this week CenterArts added Dave Rawlings Machine to its season. Over the years, Rawlings has machine gun-fired many a note into Humboldt ears in multiple trips alongside Gillian Welch. On September 28, Rawlings returns with his very own band which includes Welch as well as a man named John Paul Jones who used to be in a little group called Led Zeppelin (heard of them?).
We tell you about DRM now because LoCO readers should get first crack at tickets to things and it seems like the sellout-potential for this show is high — click here for details on how to get a seat. Also, if you missed this year's complete CenterArts lineup... here.
Now watch DRM (with JPJ on mandolin) exercise restraint on a version of Zep's "Going to California" and/or check out your Wednesday Lowdown listings below.
--Andrew Goff
Events
Movie Showtimes
Broadway Cinema
22 JUMP STREET: 1:05, 3:45, 6:25, 9:20
AMERICA: 12:50, 3:30, 6:10, 8:50
DAWN OF THE PLANET OF THE APES 2D: 11:55, 1:50, 3:00, 6:00, 9:00
DAWN OF THE PLANET OF THE APES 3D: 4:55, 8:00
EARTH TO ECHO: 12:20, 2:40, 5:10
FAULT IN OUR STARS: 7:40
HOW TO TRAIN YOUR DRAGON 2 2D: 12:15, 2:45, 5:20, 7:55
MALEFICENT 2D: 12:05, 2:30, 5:00, 7:30
PLANES: FIRE AND RESCUE 2D: 2:00, 4:15, 6:30
PLANES: FIRE AND RESCUE 3D: 11:50, 8:40
PURGE: ANARCHY: 1:20, 4:00, 6:50, 9:30
SEX TAPE: 1:40, 4:10, 6:40, 9:10
TAMMY: 12:00, 2:25, 4:50, 7:15, 9:40
TRANSFORMERS: AGE OF EXTINCTION 2D: 1:00, 8:10
TRANSFORMERS: AGE OF EXTINCTION 3D: 4:35
Mill Creek Cinema
22 JUMP STREET: 6:10, 8:50
DAWN OF THE PLANET OF THE APES 2D: 12:00, 3:00, 6:00, 9:00
DAWN OF THE PLANET OF THE APES 3D: 1:50, 4:55, 8:00
EARTH TO ECHO: 12:50, 3:10, 5:30
HOW TO TRAIN YOUR DRAGON 2 2D: 1:10, 3:40
PLANES: FIRE AND RESCUE 2D: 11:50, 2:00, 4:15, 6:30, 8:40
PURGE: ANARCHY: 1:30, 4:05, 6:45, 9:20
SEX TAPE: 1:25, 4:00, 6:35, 9:10
TAMMY: 2:00, 4:30, 7:00, 9:30
TRANSFORMERS: AGE OF EXTINCTION 2D: 7:50
Minor Theatre
BEGIN AGAIN: 4:20, 6:50, 9:20
CHEF: 3:50, 6:30, 9:10
DAWN OF THE PLANET OF THE APES 2D: 3:00, 6:00, 9:00