Lowdown: A Danceable Revolution Invades HumBrews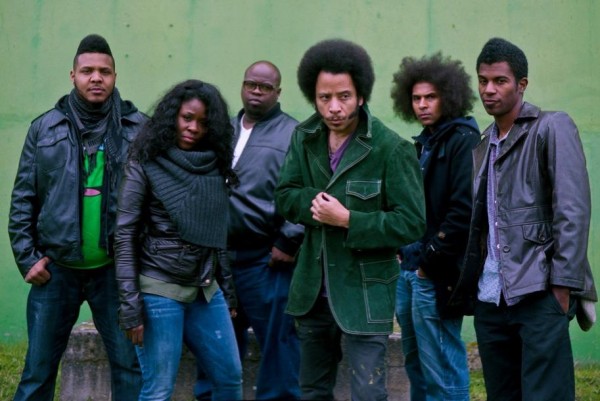 Well this one's easy.
Returning to Humboldt Wednesday night is hip hop band-in-demand The Coup, a group that somehow successfully finds a way to be both unabashedly revolutionary lyrically while still putting on shows that emphasize ze rowdy fun. HumBrews will bounce tonight. Led by rapper/political activist/party starter Boots Riley, the group has been together in various incarnations since 1991.
Sample The Coup brand of joy in the video for their track "The Magic Clap" below and/or go your own way by scanning your Wednesday Lowdown below.
-Andrew Goff
The Lowdown Fun Committee
Godlin Gets Behind
Events
The Coup
Humboldt Brews / 9 p.m. / $15 / 21+
"We're a goddamn band from muthafuckin Oakland, CA. When we play, we don't play. Danceable yet aggressive punk/funk/soul/disco/hip-hop band."
826-2739 / Web site / View Comments
Movie Showtimes
Broadway Cinema
3 DAYS TO KILL: 12:35, 3:50, 6:40, 9:10
ABOUT LAST NIGHT: 1:40, 4:10, 6:45, 9:20
ENDLESS LOVE: 12:30, 3:10, 5:45, 8:25
FROZEN 2D: 12:10, 5:20
I FRANKENSTEIN 2D: 9:25
LEGO MOVIE 2D: 11:55, 1:00, 2:30, 3:55, 5:05, 7:40
LEGO MOVIE 3D: 12:00, 6:20
LONE SURVIVOR: 2:25, 5:15, 8:10
MONUMENTS MEN: 12:05, 3:00, 5:55, 8:50
PHILOMENA: 2:45, 8:00
POMPEII 2D: 1:15, 6:30
POMPEII 3D: 3:40, 9:00
RIDE ALONG: 2:20, 4:45, 7:10, 9:35
ROBOCOP: 12:10, 2:55, 5:50, 8:40
WINTER S TALE: 12:15, 3:05, 6:05, 8:55
Mill Creek Cinema
3 DAYS TO KILL: 3:10, 6:00, 8:50
ENDLESS LOVE: 4:10, 6:50, 9:25
FROZEN 2D: 3:00
LEGO MOVIE 2D: 4:05, 6:40
LONE SURVIVOR: 5:40, 8:30
MONUMENTS MEN: 3:20, 6:10, 9:00
POMPEII 2D: 6:30
POMPEII 3D: 3:50, 9:10
RIDE ALONG: 9:15
ROBOCOP: 3:05, 5:55, 8:45
WINTER S TALE: 2:55, 5:45, 8:35
Minor Theatre
3 DAYS TO KILL: 3:50, 6:30, 9:10
HER: 6:10
PHILOMENA: 3:35, 6:00, 8:25
WINTER S TALE: 3:25, 9:00