Lowdown: Many Influences Led to This Jazz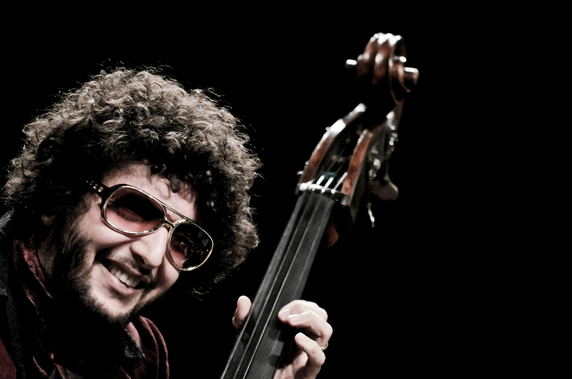 Sadly for Humboldt, today is just another Tuesday when we have no world-renowned Moroccan-Yemeni jazz bassist-led quintets playing in our fair county. So boring 'round these parts.
Oh, wait. There is one. Tonight in HSU's Fulkerson Recital Hall, the hardworking folks of the Redwood Jazz Alliance present the Omer Avital Quintet who somehow manage to namedrop a dozen-or-so more genres of music into their lengthy bio than we've ever considered existing. A sample:
"Raised in a Moroccan-Yemeni family in Tel Aviv, Avital was surrounded by a diverse musical landscape: Israeli folk songs (Arabic melodies mixed with European harmonies), Yemenite Jewish liturgical music, Ashkenazi and Sephardic prayer melodies, Arabic and Mediterranean popular tunes, European art music, and American jazz and blues."
Avital's ears must be full now. Allow his group's influences and virtuosity to slap you in the face via the YouTube clip below and/or peruse the rest of your Tuesday night options in your handy Lowdown below.
-AG
The Lowdown Fun Committee
Godlin Gets Behind
Events
The Omer Avital Quintet
Fulkerson Recital Hall / 8 p.m. / $15 / $10 students/seniors
Redwood Jazz Alliance presents. Raised in a Moroccan-Yemeni family in Tel Aviv, Avital was surrounded by a diverse musical landscape: Israeli folk songs, Yemenite Jewish liturgical music, Ashkenazi and Sephardic prayer melodies, Arabic and Mediterranean popular tunes and American jazz and blues.
826-3928 / Web site / View Comments
Movie Showtimes
Broadway Cinema
3 DAYS TO KILL: 12:35, 3:50, 6:40, 9:10
ABOUT LAST NIGHT: 1:40, 4:10, 6:45, 9:20
ENDLESS LOVE: 12:30, 3:10, 5:45, 8:25
FROZEN 2D: 12:10, 5:20
I FRANKENSTEIN 2D: 9:25
LEGO MOVIE 2D: 11:55, 1:00, 2:30, 3:55, 5:05, 7:40
LEGO MOVIE 3D: 12:00, 6:20
LONE SURVIVOR: 2:25, 5:15, 8:10
MONUMENTS MEN: 12:05, 3:00, 5:55, 8:50
PHILOMENA: 2:45, 8:00
POMPEII 2D: 1:15, 6:30
POMPEII 3D: 3:40, 9:00
RIDE ALONG: 2:20, 4:45, 7:10, 9:35
ROBOCOP: 12:10, 2:55, 5:50, 8:40
WINTER S TALE: 12:15, 3:05, 6:05, 8:55
Mill Creek Cinema
3 DAYS TO KILL: 3:10, 6:00, 8:50
ENDLESS LOVE: 4:10, 6:50, 9:25
FROZEN 2D: 3:00
LEGO MOVIE 2D: 4:05, 6:40
LONE SURVIVOR: 5:40, 8:30
MONUMENTS MEN: 3:20, 6:10, 9:00
POMPEII 2D: 6:30
POMPEII 3D: 3:50, 9:10
RIDE ALONG: 9:15
ROBOCOP: 3:05, 5:55, 8:45
WINTER S TALE: 2:55, 5:45, 8:35
Minor Theatre
3 DAYS TO KILL: 3:50, 6:30, 9:10
HER: 6:10
PHILOMENA: 3:35, 6:00, 8:25
WINTER S TALE: 3:25, 9:00