Wednesday, Feb. 5, 2014's Lowdown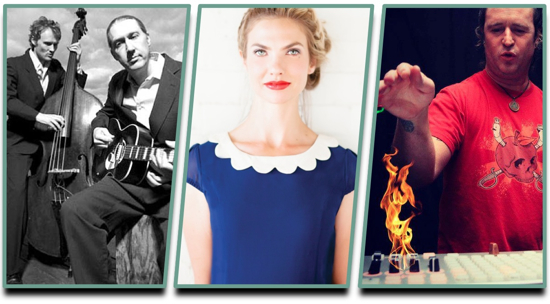 Look at that! As far as Wednesdays go, this is something of a busy one, now isn't it?:
Humboldt's 11th most Shazam'd artist Mindy Gledhill will peddle her hauting-yet-highly-adorable songs at the Arcata Playhouse. (Get a sample in the clip below.) The Humboldt-native has had a pretty good month: Insurance giant AAA's Super Bowl ad featured a score performed by Mindy, kind of a big deal. Did you know scoring commercials was a thing? Now you do.
If you missed out on Devil Makes Three tickets, your rootsy alternative can be found at HumBrews in the form of The Wood Brothers. The group will warm up their harmonies on 104.3/104.7 KHUM's Upstage Live at 6 p.m. if you'd like an ear taste.
Those saddened by the loss of Nocturnum will be stirred by the resurrection of sorts of Whomp Whomp Wednesday. Henceforth, the whomping will now take place on the sacred checkered floor at Jambalaya.
Sleeper pick: Has anyone gone to one of these Science on Tap nights at Blondies? This actually sounds pretty cool: sip a pint while an HSU science prof rains knowledge on your dome. Your Lowdown will check this out someday.
Happy humping, HumCo.
-Andrew Goff
The Lowdown Fun Committee
Andy Approves
Events
Movie Showtimes
Broadway Cinema
12 YEARS A SLAVE: 4:45
AUGUST: OSAGE COUNTY: 12:10, 3:05, 6:00, 8:55
DALLAS BUYERS CLUB: 12:05, 3:00, 5:50, 8:40
FROZEN 2D: 12:15, 5:35
FROZEN SING A LONG: 2:50, 8:10
HOBBIT: THE DESOLATION OF SMAUG 2D: 1:15
HOBBIT: THE DESOLATION OF SMAUG 3D: 7:50
I FRANKENSTEIN 2D: 2:20, 7:05
I FRANKENSTEIN 3D: 12:00, 4:40, 9:30
JACK RYAN: SHADOW RECRUIT: 1:10, 3:50, 6:30, 9:15
LABOR DAY: 12:35, 3:15, 5:55, 8:35
LONE SURVIVOR: 12:20, 3:10, 6:05, 9:00
NUT JOB 2D: 2:05, 4:20, 6:35
NUT JOB 3D: 11:50, 8:45
RIDE ALONG: 1:55, 4:25, 6:55, 9:25
THAT AWKWARD MOMENT: 1:40, 4:10, 6:40, 9:10
WOLF OF WALL STREET: 12:10, 4:05, 8:00
Mill Creek Cinema
FROZEN 2D: 3:15
FROZEN SING A LONG: 12:35, 5:25
GRAVITY 3D: 3:20, 9:00
HOBBIT: THE DESOLATION OF SMAUG 2D: 5:35
JACK RYAN: SHADOW RECRUIT: 4:00, 6:35, 9:10
LONE SURVIVOR: 12:15, 3:05, 6:00, 8:55
NUT JOB 2D: 1:10, 3:30, 5:45
NUT JOB 3D: 7:55
RIDE ALONG: 4:15, 6:45, 9:15
SAVING MR BANKS: 5:55, 8:45
THAT AWKWARD MOMENT: 4:30, 7:00, 9:30
WOLF OF WALL STREET: 8:00
Minor Theatre
HER: 3:10, 6:00, 8:50
LABOR DAY: 3:50, 6:30, 9:10
NEBRASKA: 3:00, 5:40, 8:20