Lowdown: Samurai Drummers, Masked Clowns, Disappearing Nations and "LouGrass"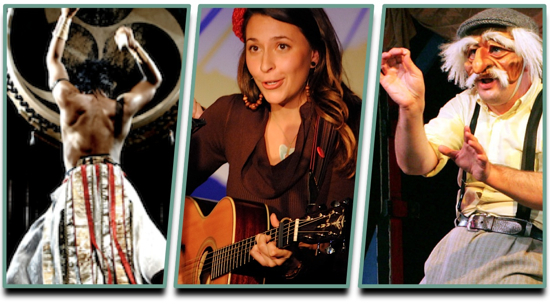 Humboldt Brews continues its winning streak Thursday night when it welcomes Michigan old-timey bluegrass posse Lindsay Lou and the Flatbellys. Things to note: 1) Check out a clip of their song "The Fix" farther down on this page; 2) Listen to the group live in advance on 104.3/104.7 KHUM round 'bouts 3 p.m.; 3) View Lindsay Lou snuggling with Bigfoot in Willow Creek here.
The Arcata Theatre Lounge hosts its monthly Ocean Night screening a couple films, most notably The Island President about Maldives president Mohamed Nasheed's battle to save his low-lying island nation from sea level rise. More in LoCO's Your Week in Ocean.
The Van Duzer Theatre stage will attempt to contain the "samurai percussionists" of Tao. Here is an over-the-top video preview if you need it. (Warning: Video clip may cause seizures. Just go see the real thing.)
Clown around in Blue Lake! Students of Dell'Arte's International School of Physical Theatre mask up and invite you to sit in on their "class" when they present Charivarl! tonight (and all weekend). The shows are free, but you probably wast to RSVP.
-Andrew Goff
The Lowdown Fun Committee
McGuinty Might
Events
Movie Showtimes
Broadway Cinema
12 YEARS A SLAVE: 4:45
AUGUST: OSAGE COUNTY: 12:10, 3:05, 6:00, 8:55
DALLAS BUYERS CLUB: 12:05, 3:00, 5:50, 8:40
FROZEN 2D: 12:15, 5:35
FROZEN SING A LONG: 2:50, 8:10
HOBBIT: THE DESOLATION OF SMAUG 2D: 1:15
HOBBIT: THE DESOLATION OF SMAUG 3D: 7:50
I FRANKENSTEIN 2D: 2:20
I FRANKENSTEIN 3D: 12:00, 4:40, 9:30
JACK RYAN: SHADOW RECRUIT: 1:10, 3:50, 6:30, 9:15
LABOR DAY: 12:35, 3:15, 5:55, 8:35
LONE SURVIVOR: 12:20, 3:10, 6:05, 9:00
MONUMENTS MEN: 7:00
NUT JOB 2D: 2:05, 4:20, 6:35
NUT JOB 3D: 11:50, 8:45
RIDE ALONG: 1:55, 4:25, 6:55, 9:25
THAT AWKWARD MOMENT: 1:40, 4:10, 6:40, 9:10
WOLF OF WALL STREET: 12:10, 4:05, 8:00
Mill Creek Cinema
FROZEN 2D: 3:15
FROZEN SING A LONG: 12:35, 5:25
GRAVITY 3D: 3:20, 9:00
HOBBIT: THE DESOLATION OF SMAUG 2D: 5:35
JACK RYAN: SHADOW RECRUIT: 4:00, 6:35, 9:10
LONE SURVIVOR: 12:15, 3:05, 6:00, 8:55
NUT JOB 2D: 1:10, 3:30, 5:45
NUT JOB 3D: 7:55
RIDE ALONG: 4:15, 6:45, 9:15
SAVING MR BANKS: 5:55, 8:45
THAT AWKWARD MOMENT: 4:30, 7:00, 9:30
WOLF OF WALL STREET: 8:00
Minor Theatre
HER: 3:10, 6:00, 8:50
LABOR DAY: 3:50, 6:30, 9:10
NEBRASKA: 3:00, 5:40, 8:20