Your Three Chances to Experience Devil Makes Three Locally (Plus a Show You Can Still Get Tickets To)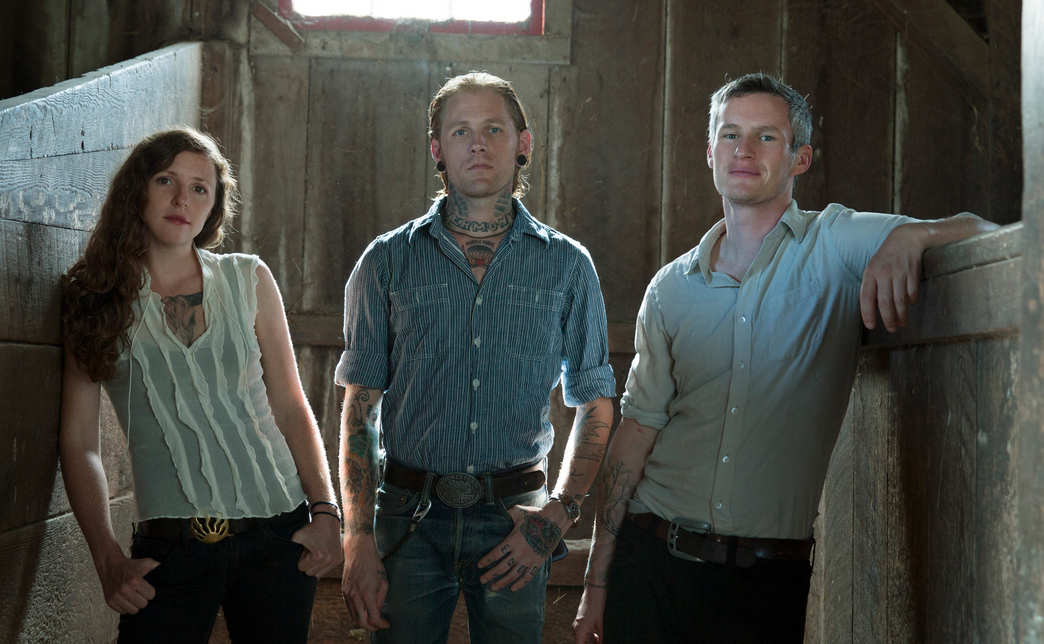 Those of you that pay attention to the Lowdown week in/week out will agree that there are no shortage of bluegrass-ish bands sneaking past the Redwood Curtain. So what is it that makes Devil Makes Three so special that the group is able to sell out two straight nights at sizable local venues? Is it their attention to songwriting? The super-energetic live experience they seem to effortlessly manifest? That indefinable "it" factor?
Gah, who knows why music works? Whatever it be, if you don't already have tickets for tonights show at the Mateel Community Center or tomorrow's trip to the Van Duzer Theatre, you're going to miss it again. But! If you have access to an FM radio, the trio will stop by KHUM some time in the 1 p.m. hour on Wednesday afternoon. DJ Mike Dronkers will attempt to root out answers to the questions we posed above. We give him 72% odds of succeeding.
As far as Tuesday night shows that are not sold out, PDXgrass band The Moonshine will soothe your strummed string lust at the Jambalaya. (Similarly, the band will stop by KHUM to do aural battle with DJ Larry Trask today sometime after 4 p.m.)
Since DM3 seem to have no problem filling rooms, feast your eyes and ears on The Moonshine below and/or peruse today's Lowdown listings farther down this splendid webpage.
-Andrew Goff
The Lowdown Fun Committee
Godlin Gets Behind
Events
Movie Showtimes
Broadway Cinema
12 YEARS A SLAVE: 4:45
AUGUST: OSAGE COUNTY: 12:10, 3:05, 6:00, 8:55
DALLAS BUYERS CLUB: 12:05, 3:00, 5:50, 8:40
FROZEN 2D: 12:15, 5:35
FROZEN SING A LONG: 2:50, 8:10
HOBBIT: THE DESOLATION OF SMAUG 2D: 1:15
HOBBIT: THE DESOLATION OF SMAUG 3D: 7:50
I FRANKENSTEIN 2D: 2:20, 7:05
I FRANKENSTEIN 3D: 12:00, 4:40, 9:30
JACK RYAN: SHADOW RECRUIT: 1:10, 3:50, 6:30, 9:15
LABOR DAY: 12:35, 3:15, 5:55, 8:35
LONE SURVIVOR: 12:20, 3:10, 6:05, 9:00
NUT JOB 2D: 2:05, 4:20, 6:35
NUT JOB 3D: 11:50, 8:45
RIDE ALONG: 1:55, 4:25, 6:55, 9:25
THAT AWKWARD MOMENT: 1:40, 4:10, 6:40, 9:10
WOLF OF WALL STREET: 12:10, 4:05, 8:00
Mill Creek Cinema
FROZEN 2D: 3:15
FROZEN SING A LONG: 12:35, 5:25
GRAVITY 3D: 3:20, 9:00
HOBBIT: THE DESOLATION OF SMAUG 2D: 5:35
JACK RYAN: SHADOW RECRUIT: 4:00, 6:35, 9:10
LONE SURVIVOR: 12:15, 3:05, 6:00, 8:55
NUT JOB 2D: 1:10, 3:30, 5:45
NUT JOB 3D: 7:55
RIDE ALONG: 4:15, 6:45, 9:15
SAVING MR BANKS: 5:55, 8:45
THAT AWKWARD MOMENT: 4:30, 7:00, 9:30
WOLF OF WALL STREET: 8:00
Minor Theatre
HER: 3:10, 6:00, 8:50
LABOR DAY: 3:50, 6:30, 9:10
NEBRASKA: 3:00, 5:40, 8:20