Lowdown: The Most Impressive Gotye Cover? (VIDEO)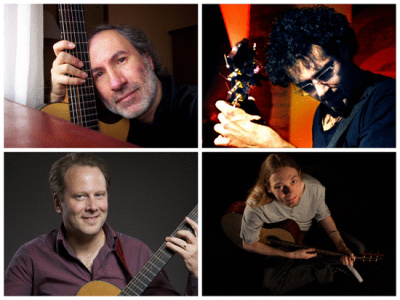 What is tonight, you ask? Why, it's International Guitar Night at the Arcata Playhouse, of course! What the hell does that mean? Well, in this instance it means that four master-level acoustic string manipulators will share the stage for a night of virtuosity that's sure to make you want to retire from strumming. Your antagonists: IGN founder Brian Gore, Italy's Pino Forastiere, Argentina's Quique Sinesi and England's Mike Dawes. These guys are good guitar guys.
To give you an idea of the level of fretboard magicianry at work here, please attempt to comprehend what Mike Dawes has done to Gotye's "Somebody That I Used To Know" in the clip below. We are going to go out on a limb and say that you can't do that.
Keep practicing. Details on IGN and other less frustrating Monday night events in your Lowdown below.
-Andrew Goff
The Lowdown Fun Committee
Andy Approves
Events
Movie Showtimes
Broadway Cinema
12 YEARS A SLAVE: 4:45
AUGUST: OSAGE COUNTY: 12:10, 3:05, 6:00, 8:55
DALLAS BUYERS CLUB: 12:05, 3:00, 5:50, 8:40
FROZEN 2D: 12:15, 5:35
FROZEN SING A LONG: 2:50, 8:10
HOBBIT: THE DESOLATION OF SMAUG 2D: 1:15
HOBBIT: THE DESOLATION OF SMAUG 3D: 7:50
I FRANKENSTEIN 2D: 2:20, 7:05
I FRANKENSTEIN 3D: 12:00, 4:40, 9:30
JACK RYAN: SHADOW RECRUIT: 1:10, 3:50, 6:30, 9:15
LABOR DAY: 12:35, 3:15, 5:55, 8:35
LONE SURVIVOR: 12:20, 3:10, 6:05, 9:00
NUT JOB 2D: 2:05, 4:20, 6:35
NUT JOB 3D: 11:50, 8:45
RIDE ALONG: 1:55, 4:25, 6:55, 9:25
THAT AWKWARD MOMENT: 1:40, 4:10, 6:40, 9:10
WOLF OF WALL STREET: 12:10, 4:05, 8:00
Mill Creek Cinema
FROZEN 2D: 3:15
FROZEN SING A LONG: 12:35, 5:25
GRAVITY 3D: 3:20, 9:00
HOBBIT: THE DESOLATION OF SMAUG 2D: 5:35
JACK RYAN: SHADOW RECRUIT: 4:00, 6:35, 9:10
LONE SURVIVOR: 12:15, 3:05, 6:00, 8:55
NUT JOB 2D: 1:10, 3:30, 5:45
NUT JOB 3D: 7:55
RIDE ALONG: 4:15, 6:45, 9:15
SAVING MR BANKS: 5:55, 8:45
THAT AWKWARD MOMENT: 4:30, 7:00, 9:30
WOLF OF WALL STREET: 8:00
Minor Theatre
HER: 3:10, 6:00, 8:50
LABOR DAY: 3:50, 6:30, 9:10
NEBRASKA: 3:00, 5:40, 8:20