Will the Rain Steal Our Samba?
UPDATE, 11:42 a.m.: Well, the sun is really trying for you, HumCo. There is reason to feel optimistic about Samba today. The photo below shows the North Country Fair scene at roughly 11:30 a.m. Stay tuned.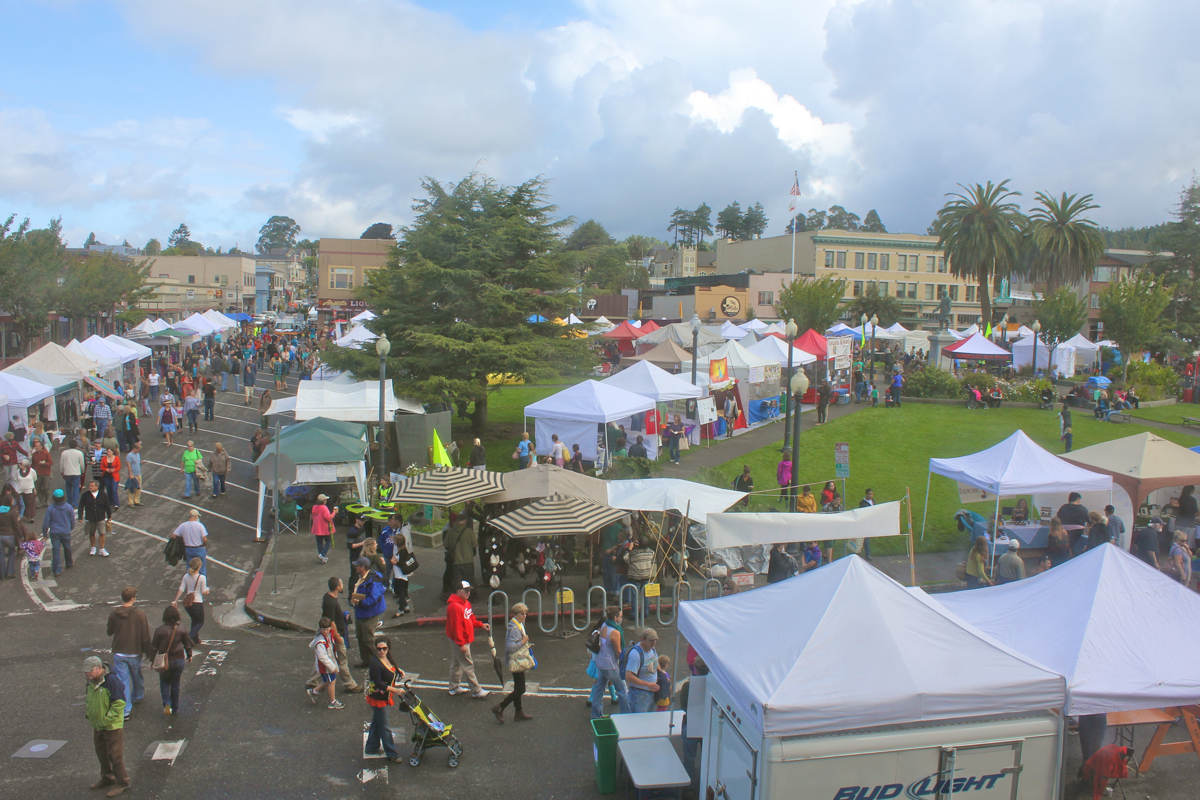 (Click image to biggify.)
# # #
Original Post: Well, your Saturday fun really hinges on whether or not God cries all over Humboldt, now doesn't it?
The weather has already caused one event to turn its back on the great outdoors. Friday afternoon, your Lost Coast Outpost received a note that Movies in the Park would now be (kinda traditional) Movies in the Theater -- you can see The Gnome Mobile at the the Eureka Theater tonight, rain or shine.
But of course the big question is if the show will go on in Arcata with the 40th Annual North Country fair set to take over the Plaza for the next two days. Will we get our Saturday Samba Parade? How about our Sunday All Species Parade? Look to the heavens, Humboldt. There you shall find your answer.
One thing we know: Soul Night is indoors. You can always rely on soul.
-Andrew Goff
Events
Movie Showtimes
Broadway Cinema
BLUE JASMINE: 1:50, 4:20, 6:50, 9:20
DESPICABLE ME 2 2D: 12:25, 2:55
ELYSIUM: 12:05, 2:45, 5:25, 8:15
INSIDIOUS CHAPTER 2: 1:15, 4:05, 6:45, 8:10, 9:25
LEE DANIELS THE BUTLER: 12:00, 3:05, 6:05, 9:05
PLANES 2D: 1:10, 3:30, 5:50
PRISONERS: 1:25, 2:40, 4:55, 5:30, 8:25, 9:00
RIDDICK: 11:55, 2:50, 5:45, 8:40
THE FAMILY: 12:55, 3:40, 6:25, 9:10
THE WORLD S END: 12:00, 6:10, 8:50
THIS IS THE END: 1:45, 4:25, 7:00, 9:35
WE RE THE MILLERS: 1:00, 3:55, 6:35, 9:15
Mill Creek Cinema
ELYSIUM: 12:40, 3:20, 9:25
INSIDIOUS CHAPTER 2: 12:35, 3:10, 5:45, 8:30, 9:15
LEE DANIELS THE BUTLER: 12:00, 3:00, 5:55, 9:00
PRISONERS: 1:25, 4:55, 6:00, 8:25, 8:45
RIDDICK: 12:05, 2:55, 5:50
THE FAMILY: 12:50, 3:30, 6:10, 8:55
THIS IS THE END: 1:20, 4:00, 6:40
WE RE THE MILLERS: 1:30, 4:10, 6:50, 9:30
Minor Theatre
PRISONERS: 1:55, 5:20, 8:45
SPECTACULAR NOW: 1:30, 3:50, 6:10, 8:30
THE FAMILY: 1:00, 3:40, 6:20, 9:00