Jeffer-Son's and Daughters, Get Thee to the Cookhouse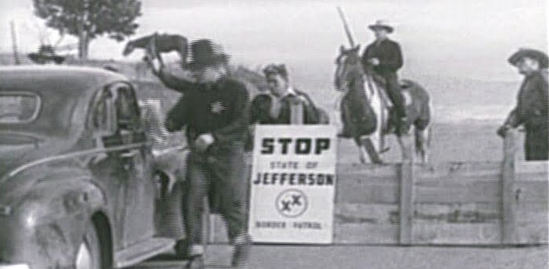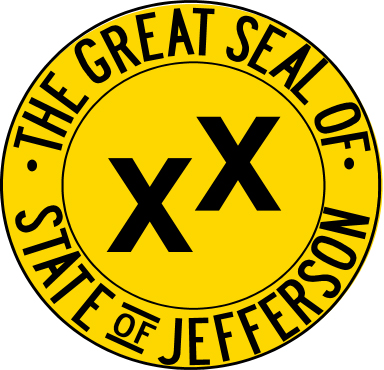 You say you want a revolution? Well, can you do lunch?
For Humboldtians interested in climbing aboard the State of Jefferson glory train, the time to put thine money where thine mouth is is noon Wednesday at the Samoa Cookhouse. There, would-be Jeffersonian founding father Mark Baird will pitch a secedin' brand o' freedom to the regular meeting of the right-leaning Humboldt Taxpayers League. (If you can't attend, your Lost Coast Outpost posted video of Baird sellin' Jefferson earlier this week.) Surely there will be many sympathetic to the cause in attendance, so this could be a great chance to announce your candidacy for Senator or Governor or something. Dress nice.
-Andrew Goff
The Lowdown Fun Committee
Larry Likes
Events
Movie Showtimes
Broadway Cinema
BLUE JASMINE: 6:00, 8:35
CLOUDY WITH A CHANCE OF MEATBALLS 2 2D: 12:05, 2:40, 3:45, 5:10, 7:40
CLOUDY WITH A CHANCE OF MEATBALLS 2 3D: 1:25, 6:10
DESPICABLE ME 2 2D: 1:00, 3:30
DON JON: 12:00, 2:20, 4:40, 7:05, 9:30
GRAVITY 2D: 1:45, 6:35
GRAVITY 3D: 12:45, 3:10, 4:20, 5:35, 8:00, 9:10
INSIDIOUS CHAPTER 2: 1:20, 4:05, 6:50, 9:25
LEE DANIELS THE BUTLER: 11:55, 5:40
PRISONERS: 1:30, 4:55, 8:20
RIDDICK: 2:50, 8:40
RUNNER RUNNER: 2:00, 4:10, 6:45, 9:00
RUSH: 12:15, 3:15, 6:15, 9:15
THE FAMILY: 12:20, 3:00, 5:45, 8:25
WE RE THE MILLERS: 8:50
Mill Creek Cinema
CLOUDY WITH A CHANCE OF MEATBALLS 2 2D: 3:45, 6:15
CLOUDY WITH A CHANCE OF MEATBALLS 2 3D: 8:40
DON JON: 4:20, 6:40, 9:00
GRAVITY 2D: 4:55
GRAVITY 3D: 7:00, 9:20
INSIDIOUS CHAPTER 2: 3:10, 5:45, 8:20
LEE DANIELS THE BUTLER: 3:30
PRISONERS: 5:05, 8:30
RUNNER RUNNER: 4:40, 7:15, 9:35
RUSH: 3:00, 5:55, 8:50
THE FAMILY: 6:30
WE RE THE MILLERS: 9:10
Minor Theatre
GRAVITY 2D: 4:40, 7:00, 9:20
PRISONERS: 5:15, 8:30
THANKS FOR SHARING: 4:00, 6:30, 9:00