Thursday's Lowdown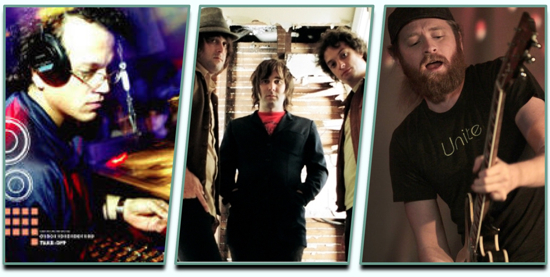 Q: Does Arcata have three Thursday night shows competing for your almost weekend attention? A: You bet your sweet bippy:
Mark Farina, Arcata Theatre Lounge: Every time this guy comes to Humboldt we relook up "mushroom jazz" -- the genre Farina fancies himself the king of -- only to be reminded that he invented it. Dammit. Here, you look it up.
The Blakes, HumBrews: Every time this band comes to town we have to hear about how they ooze sex, rawness and rock purity (and that they stayed at Jennifer Savage's house once). They're like the world at-large's version of The Trouble. Hey, guess who's opening?
Scott Pemberton Trio, Jambalaya: Every time these guys come to town … well, maybe they've never been here. So below is what they look like on YouTube.
-Andrew Goff
The Lowdown Fun Committee
Andy Approves
Events
Movie Showtimes
Broadway Cinema
BLUE JASMINE: 6:00, 8:35
CAPTAIN PHILLIPS: 8:30
CLOUDY WITH A CHANCE OF MEATBALLS 2 2D: 12:05, 2:40, 3:45, 5:10, 7:40
CLOUDY WITH A CHANCE OF MEATBALLS 2 3D: 1:25, 6:10
DESPICABLE ME 2 2D: 1:00, 3:30
DON JON: 12:00, 2:20, 4:40, 7:05, 9:30
GRAVITY 2D: 1:45, 6:35
GRAVITY 3D: 12:45, 3:10, 4:20, 5:35, 8:00, 9:10
INSIDIOUS CHAPTER 2: 1:20, 4:05, 6:50, 9:25
LEE DANIELS THE BUTLER: 11:55, 5:40
PRISONERS: 1:30, 4:55, 8:20
RIDDICK: 2:50, 8:40
RUNNER RUNNER: 2:00, 4:10, 6:45, 9:00
RUSH: 12:15, 3:15, 6:15, 9:15
THE FAMILY: 12:20, 3:00, 5:45, 8:25
WE RE THE MILLERS: 8:50
Mill Creek Cinema
CLOUDY WITH A CHANCE OF MEATBALLS 2 2D: 3:45, 6:15
CLOUDY WITH A CHANCE OF MEATBALLS 2 3D: 8:40
DON JON: 4:20, 6:40, 9:00
GRAVITY 2D: 4:55
GRAVITY 3D: 7:00, 9:20
INSIDIOUS CHAPTER 2: 3:10, 5:45, 8:20
LEE DANIELS THE BUTLER: 3:30
PRISONERS: 5:05, 8:30
RUNNER RUNNER: 4:40, 7:15, 9:35
RUSH: 3:00, 5:55, 8:50
THE FAMILY: 6:30
WE RE THE MILLERS: 9:10
Minor Theatre
GRAVITY 2D: 4:40, 7:00, 9:20
PRISONERS: 5:15, 8:30
THANKS FOR SHARING: 4:00, 6:30, 9:00