See Live Hick Mario Kart in Fortuna Tonight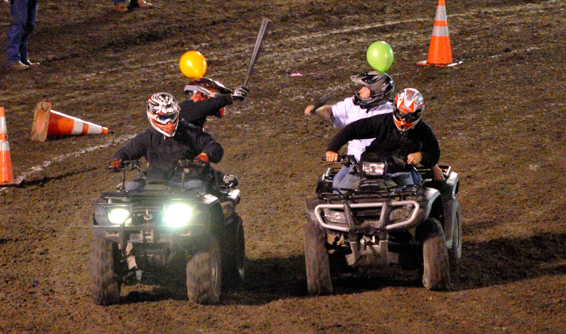 Look, we can understand if you're not big on rodeo. It's not for everyone. But if you have complaints about how rodeo animals are treated -- a topic totally legit and up for discussion -- we will submit to you that, at least at the Fortuna Rodeo, the humans allow themselves to be punished for entertainment purposes too.
That's right, kids. Friday night in Fortuna is Motorsports Night in the rodeo grounds which means one thing: QUADIATORS. Do you like Mario Kart? Pain? This is for you.
If you're new to town let us explain. Tonight at the Fortuna Rodeo Grounds, teams of two will mount ATVs. One teammate will be the designated driver (not in the traditional sense, but we assume they will be sober) while the other stands on the back equipped with a whiffle ball bat and with a balloon taped securely to their helmet. You with us so far? Multiple teams will then proceed to drive in a circle simultaneously and attempt to pull close enough to their competitors to allow for bat-induced balloon popping, i.e. their swinging bats at each other's (helmeted) heads. Last balloon standing wins. There are multiple heats. Eventually, a champion is crowned.
This is known as fun.
Does all the swinging bats at your fellow human ever lead to actual, heated altercations? Oh, hell yeah. Best of all, we know that the Fortuna Rodeo folks won't even get mad at us for mentioning it -- they feature a video of a Quadiator-related brawl right on their website. (This could happen again, folks! Come on down!)
Anywho, that's goin' down tonight. Also Friday, the toe-tappin' joy at the Folklife Festival Barn Dance in Arcata, Grandmothers of Invention deftly handling Zappa pieces at HumBrews and the first night of the Northern Nights Music Festival. Get Lowdown below.
-Andrew Goff
The Lowdown Fun Committee
Larry Likes
Events
The Heir Apparent
Redwood Curtain Theatre / 8 p.m. / $15
Modern comic genius David Ives adapts Jean-Francois Regnard's 1708 masterpiece, wherein Eraste desperately wants to marry Isabelle, but first he needs to secure an inheritance from his miserable old uncle, Geronte.
View Comments
Movie Showtimes
Broadway Cinema
CONJURING: 1:15, 4:00, 6:45, 9:30
DESPICABLE ME 2 2D: 12:35, 3:15, 5:50, 8:25
GROWN UPS 2: 12:25, 1:50, 3:05, 4:30, 5:40, 7:05, 8:15, 9:40
LONE RANGER: 12:45, 4:15, 7:50
PACIFIC RIM 2D: 1:35, 3:00, 4:40, 7:45, 9:00
PACIFIC RIM 3D: 12:00, 6:00
RED 2: 12:30, 3:25, 6:15, 9:05
RIPD IN 2D: 2:30, 7:20
RIPD IN 3D: 12:05, 4:55, 9:45
THE HEAT: 12:50, 3:40
TURBO 2D: 12:20, 5:30
TURBO 3D: 2:50, 8:00
WORLD WAR Z 2D: 1:00, 3:50, 6:40, 9:30
Mill Creek Cinema
CONJURING: 1:15, 4:00, 6:40, 9:20
DESPICABLE ME 2 2D: 12:20, 2:55, 5:35, 8:00
GROWN UPS 2: 12:55, 3:30, 6:10, 8:50
PACIFIC RIM 2D: 3:00, 9:00
PACIFIC RIM 3D: 12:00, 6:00
RED 2: 12:00, 2:45, 5:30, 8:25
RIPD IN 2D: 3:50, 8:40
RIPD IN 3D: 1:25, 6:15
THE HEAT: 12:50, 3:40, 6:25, 9:10
TURBO 2D: 12:45, 5:50
TURBO 3D: 3:20, 8:20
Minor Theatre
DESPICABLE ME 2 2D: 3:35, 5:55, 8:15
GROWN UPS 2: 4:25, 6:50, 9:15
RIPD IN 2D: 4:40, 7:05, 9:30