Lowdown: Humboldt Will Spend Its Saturday in Blue Lake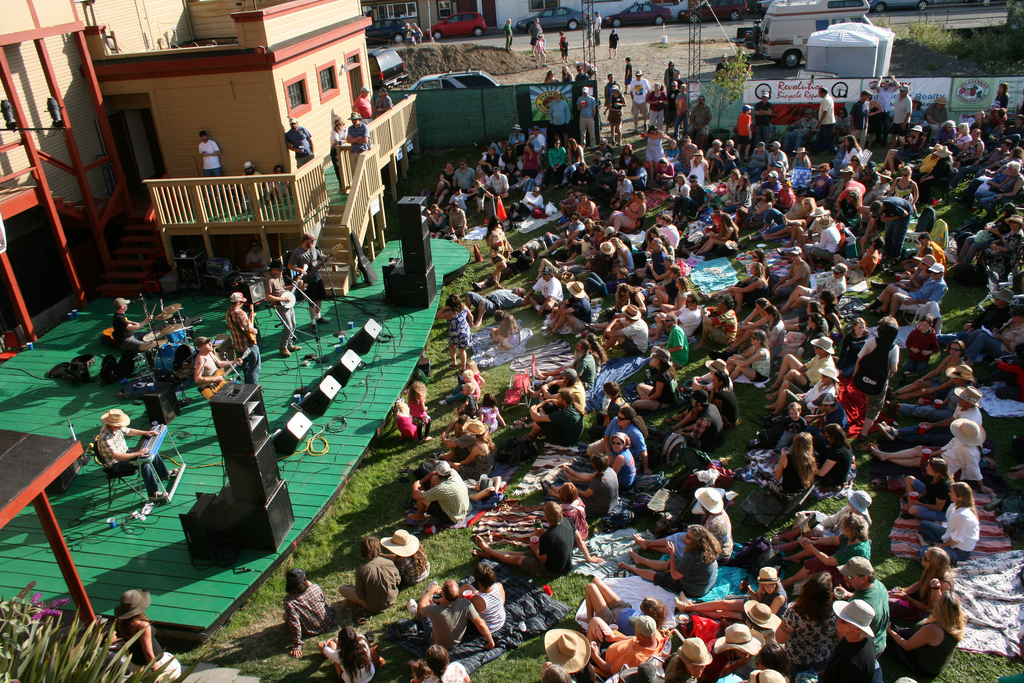 After a packed week of strummed strings, the Humboldt Folklife Festival goes out with a bang on Saturday with its annual All Day Free Festival which occupies much of sunny downtown Blue Lake. With over twenty local acts performing on multiple stages throughout the day, plus food carts, vendor booths, puppet shows. musical workshops and the oh-did-we-mention-free aspect, the event really is one of the highlights on the annual Humboldt calendar.
Below you'll find the schedules for the two main stages:
Dell'Arte Amphitheatre Stage:
11 a.m.

Soulful Sidekicks

12 p.m.

Fickle Heart
1 p.m.

Jan Bramlett
2 p.m.

Bayou Swamis
3 p.m.

La Patinas
4 p.m.

Gunsafe
5 p.m.

Lost Coast Rangers
6 p.m.

Twango Macallan
7 p.m. The Cherry Pickers
Blue Lake Street Stage:
10:45 a.m.

JD Jeffries

11:45 a.m.

Mark Richardson
12:45 p.m.

Sunshine N Yellowbird
1:45 p.m.

Groomin' Charlie
2:45 p.m.

Lolonis
3:45 p.m.

Good Company

4:45 p.m.

Lyndsey Battle

5:45 p.m.

Jeff Landen
6:45 p.m.

Kindred Spirits
For more info on the various day's features, hit up the Humboldt Folklife Society website. For more Saturday options, including the actual rodeo part of Fortuna Rodeo Week, see your Lowdown below.
-Andrew Goff
The Lowdown Fun Committee
Larry Likes
Events
Humboldt Folklife Festival All Day Free Fest
Dell'Arte / 10 a.m.
Full day of music on two stages, kids barn dance, puppet show, food, uke lessons, joy. Music by Cherry Pickers, Twango Macallan, Kindred Spirits, Gunsafe, The Lapatinas, Sunshine N Yellowbird and many more.
View Comments
Movie Showtimes
Broadway Cinema
CONJURING: 1:15, 4:00, 6:45, 9:30
DESPICABLE ME 2 2D: 12:35, 3:15, 5:50, 8:25
GROWN UPS 2: 12:25, 1:50, 3:05, 4:30, 5:40, 7:05, 8:15, 9:40
LONE RANGER: 12:45, 4:15, 7:50
PACIFIC RIM 2D: 1:35, 3:00, 4:40, 7:45, 9:00
PACIFIC RIM 3D: 12:00, 6:00
RED 2: 12:30, 3:25, 6:15, 9:05
RIPD IN 2D: 2:30, 7:20
RIPD IN 3D: 12:05, 4:55, 9:45
THE HEAT: 12:50, 3:40
TURBO 2D: 12:20, 5:30
TURBO 3D: 2:50, 8:00
WORLD WAR Z 2D: 1:00, 3:50, 6:40, 9:30
Mill Creek Cinema
CONJURING: 1:15, 4:00, 6:40, 9:20
DESPICABLE ME 2 2D: 12:20, 2:55, 5:35, 8:00
GROWN UPS 2: 12:55, 3:30, 6:10, 8:50
PACIFIC RIM 2D: 3:00, 9:00
PACIFIC RIM 3D: 12:00, 6:00
RED 2: 12:00, 2:45, 5:30, 8:25
RIPD IN 2D: 3:50, 8:40
RIPD IN 3D: 1:25, 6:15
THE HEAT: 12:50, 3:40, 6:25, 9:10
TURBO 2D: 12:45, 5:50
TURBO 3D: 3:20, 8:20
Minor Theatre
DESPICABLE ME 2 2D: 1:15, 3:35, 5:55, 8:15
GROWN UPS 2: 2:00, 4:25, 6:50, 9:15
RIPD IN 2D: 2:20, 4:40, 7:05, 9:30