Don't Believe the #SNOWMAGEDDON Hype ... Have a Saturday, Humboldt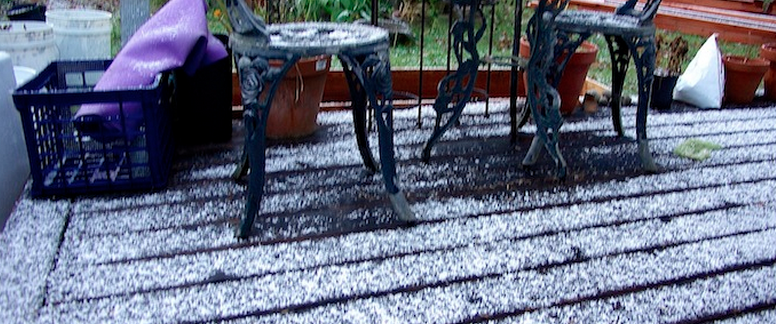 (Above: Oh. My. God.)
Remain calm, Humboldt. Those three snowflakes that stuck to your deck do not bar you from doing any of the great community things going down in the county today.

In fact, eff it, just throw your self full bore into the "snowy" outdoors during the annual Candlelight Walk through the Redwoods which disembarks from the Prairie Creek Redwoods State Park visitor center this afternoon.
Or, it just so happens to be Arts Alive tonight. Stroll through our temporary winter wonderland and handle some of that soul-crushing Christmas shopping. Should you drive through Eureka, remember Humboldt drivers become baby giraffes on rollerblades when actual weather effects our roads. Be safe.
Oh, yeah. Also, a couple of our office mates will b.s. live and onstage at the Eureka Inn for your enjoyment -- I mean, it's something we at LoCO endure everyday. But you are not us. Yes, it's the monthly Late Night with Sherae talk show thingy with special guest Mike Dronkers. Watch the worst-quality YouTube video ever below to get a taste of the O'Shag/Dronk chemistry. Plan your evening accordingly.
-Andrew Goff
The Lowdown Fun Committee
McGuinty Might
Events
Movie Showtimes
Broadway Cinema
DALLAS BUYERS CLUB: 12:15, 3:45, 6:30, 9:15
DELIVERY MAN: 12:30, 3:10, 5:45, 8:20
ENDER S GAME: 3:25, 8:35
FREE BIRDS 2D: 12:00, 2:10
FROZEN 2D: 11:55, 12:35, 1:10, 2:35, 3:15, 5:55, 7:50, 8:30
FROZEN 3D: 5:15
GRAVITY 3D: 1:00, 6:15
HOMEFRONT: 1:40, 4:15, 6:50, 9:25
HUNGER GAMES: CATCHING FIRE: 12:20, 2:20, 3:40, 5:40, 7:00, 9:00
JACKASS PRESENTS: BAD GRANDPA: 4:25, 9:35
LAST VEGAS: 3:00, 5:35, 8:10
LEE DANIELS THE BUTLER: 6:40
OUT OF THE FURNACE: 12:40, 3:30, 6:20, 9:10
THOR: THE DARK WORLD 2D: 12:50, 3:30, 6:10, 8:50
Mill Creek Cinema
DELIVERY MAN: 12:35, 3:10, 5:50, 8:55
FROZEN 2D: 12:00, 12:55, 2:35, 3:35, 5:20, 6:20, 8:00
FROZEN 3D: 8:25
HOMEFRONT: 1:50, 4:20, 6:50, 9:25
HUNGER GAMES: CATCHING FIRE: 12:45, 2:45, 4:10, 6:00, 7:30, 9:10
OUT OF THE FURNACE: 12:30, 3:20, 6:10, 9:00
THOR: THE DARK WORLD 2D: 1:00, 3:45, 6:30, 9:15
Minor Theatre
12 YEARS A SLAVE: 12:00, 3:00, 6:00, 9:00
ALL IS LOST: 12:20, 3:15, 6:15, 9:10
HUNGER GAMES: CATCHING FIRE: 2:05, 5:25, 8:45