Saturday, April 27, 2013's Lowdown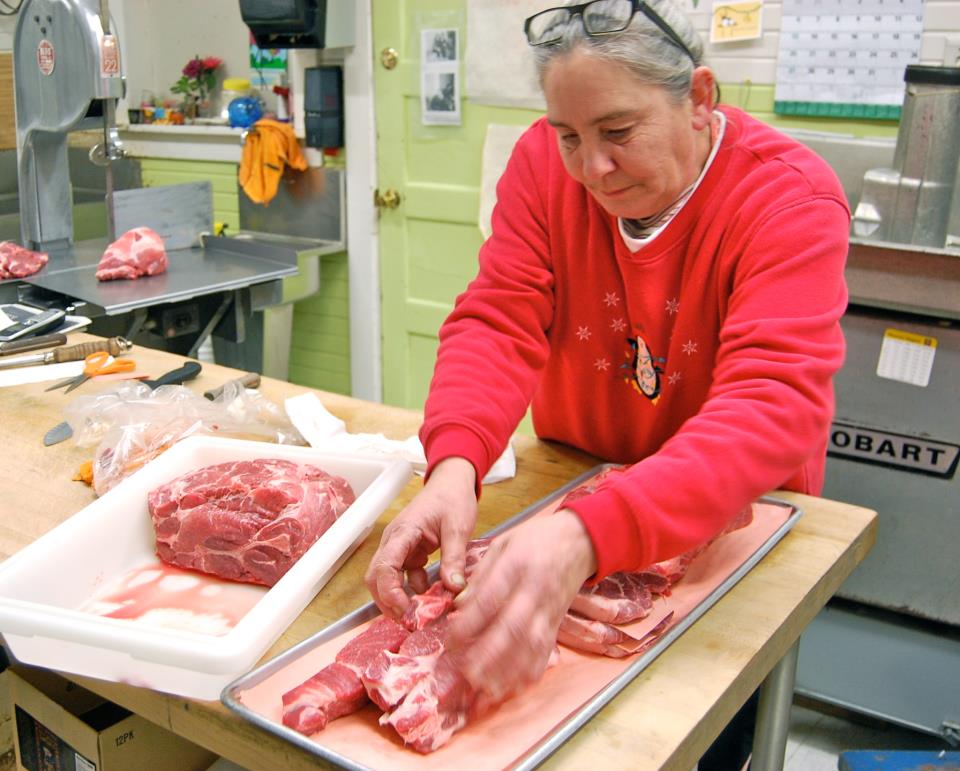 (Above: Loleta Meat Market's Pixie Setterlund.)
The beef between the Loleta Meat Market and the Loleta Bakery fired up the Eel River Valley a few months back after the bakery's owners -- who own the building the two businesses share -- told the beloved meat market its days in that space were numbered. (For more meat on that issue, go here.) Long story short: The meat market's gotta move. And it's gonna be expensive.
Cue community spirit. Saturday, the town of Loleta will band together in support of their favorite sausage maker, market meat magician Pixie Setterlund, at the Loleta Meat Market Luau to raise funds to relocate operations down the street in the old Gilded Rose. The Fireman's Pavilion will be filled with the sounds of local legit country ambassadors Rooster McClintock (see video below) and the event will feature the standard fundraiser money makers, i.e. beer, wine, auctions, raffles.
And, of course, there will be meat.
-Andrew Goff
For less meaty Saturday pleasures, peruse your Lowdown below:
The Lowdown Fun Committee
Larry Likes
Events
Rhododendron Parade
Eureka / 10 a.m.
Celebrate the North Coast's vibrant red and pink rhododendron blooms. Travels east on Seventh Street, south on H Street, west on Henderson and concludes near the rear of the Eureka Mall.
View Comments
Movie Showtimes
Broadway Cinema
42: 11:50, 2:50, 5:50, 8:50
BIG WEDDING: 12:05, 2:25, 4:45, 7:10, 9:30
EVIL DEAD: 2:20, 4:50, 7:20, 9:40
GI JOE RETALIATION 2D: 3:35, 9:10
JURASSIC PARK 3D: 12:10, 3:05, 6:05, 9:00
OBLIVION: 12:15, 2:10, 3:15, 5:15, 6:15, 8:15, 9:15
OLYMPUS HAS FALLEN: 12:50, 3:40, 6:30, 9:20
OZ THE GREAT AND POWERFUL 2D: 12:35, 6:20
PAIN AND GAIN: 12:00, 3:00, 6:00, 9:05
PLACE BEYOND THE PINES: 2:00, 5:25, 8:40
SCARY MOVIE 5: 12:20, 2:35, 4:55, 7:15, 9:35
THE CROODS 2D: 12:10, 5:10
THE CROODS 3D: 2:40, 7:40
Garberville Theater
Mill Creek Cinema
42: 11:55, 2:55, 6:00, 9:00
BIG WEDDING: 12:00, 2:20, 4:40, 7:00, 9:20
EVIL DEAD: 7:10, 9:30
JURASSIC PARK 3D: 1:45, 4:45, 7:45
OBLIVION: 11:50, 2:50, 5:50, 8:50
OZ THE GREAT AND POWERFUL 2D: 1:05, 4:05
PAIN AND GAIN: 12:10, 3:10, 6:10, 9:10
SCARY MOVIE 5: 12:25, 2:40, 4:55, 7:20, 9:40
THE CROODS 2D: 12:35, 3:05, 5:40, 8:10
Minor Theatre
42: 12:15, 3:10, 6:05, 9:00
OBLIVION: 12:30, 3:25, 6:20, 9:15
PLACE BEYOND THE PINES: 2:20, 5:25, 8:30