Watch CBS Grammy Interviewer Not Be Able To Contain His Love of Sara Bareilles (VIDEO)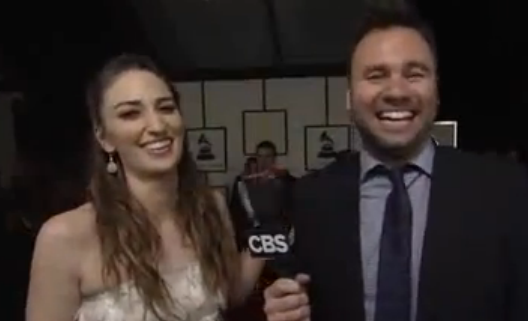 It's a low key Monday in HumCo, so we are shamelessly forgoing our usual Lowdown duties to join the rest of the county in fawning over Grammy star and local-girl-gone-awesome Sara Bareilles. She is great, people. Get used to it.
Elsewhere on LoCO you'll find "aww"-inspiring video of Bareilles' Grammy performance with fellow singing ivory tickler Carole King. (Did we mention Humboldt is very proud of you, Sara? Squee!) But we found one other moment from last night that speaks to the heights of fame to which our hometown hero has climbed. Below, watch a CBS red carpet interviewer revert to teenage fanboy status when tasked with interviewing the pop star.
"Aaand this is where I have to not look right at her because I'm in love with her," gushes the man with the microphone (he might be someone famous, but we don't recognize him).
By the end of their chat, dude recommends that Bareilles obtain a restraining order against him. Yikes? Watch the love fest below.
-Andrew Goff
The Lowdown Fun Committee
Godlin Gets Behind
Events
Movie Showtimes
Broadway Cinema
12 YEARS A SLAVE: 3:15, 8:40
AUGUST: OSAGE COUNTY: 12:10, 3:05, 6:00, 8:55
DALLAS BUYERS CLUB: 12:05, 3:00, 5:50, 8:40
DEVIL S DUE: 2:45, 4:50, 7:20, 9:40
FROZEN 2D: 12:45, 6:20
GRAVITY 3D: 3:25, 9:15
HER: 12:00, 5:05
HOBBIT: THE DESOLATION OF SMAUG 2D: 11:55
HOBBIT: THE DESOLATION OF SMAUG 3D: 5:45
I FRANKENSTEIN 2D: 2:20, 7:05
I FRANKENSTEIN 3D: 12:00, 4:40, 9:30
JACK RYAN: SHADOW RECRUIT: 1:10, 3:50, 6:30, 9:10
LEGEND OF HERCULES 2D: 12:50, 6:15
LONE SURVIVOR: 12:15, 3:10, 6:05, 9:00
NUT JOB 2D: 2:05, 4:20, 6:35
NUT JOB 3D: 11:50, 8:45
RIDE ALONG: 1:55, 4:25, 6:55, 9:25
SAVING MR BANKS: 3:20, 8:50
WOLF OF WALL STREET: 1:15, 8:00
Mill Creek Cinema
ANCHORMAN 2: THE LEGEND CONTINUES: 2:55, 9:25
DEVIL S DUE: 4:50, 7:10, 9:30
FROZEN 2D: 3:15
GRAVITY 3D: 3:20, 9:00
HOBBIT: THE DESOLATION OF SMAUG 2D: 5:35
JACK RYAN: SHADOW RECRUIT: 4:00, 6:35, 9:10
LONE SURVIVOR: 3:10, 6:05, 8:55
NUT JOB 2D: 3:30, 5:50
NUT JOB 3D: 8:00
RIDE ALONG: 4:15, 6:45, 9:15
SAVING MR BANKS: 5:55, 8:45
WOLF OF WALL STREET: 5:40
Minor Theatre
INSIDE LLEWYN DAVIS: 4:00, 6:35, 9:10
JACK RYAN: SHADOW RECRUIT: 3:25, 6:00, 8:40
NEBRASKA: 3:40, 6:20, 9:00