(UPDATED, NOPE) Ozomatli are Just Gonna Be Hanging Out at Los Bagels This Afternoon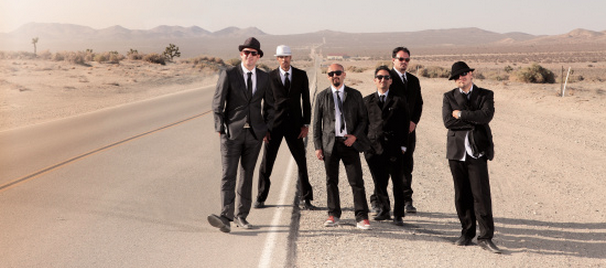 UPDATE, 2:40 p.m.: LoCO received an email a little bit ago stating that Ozomatli were running late and would be unable to squeeze in the Los Bagels portion of their trek. They will be on KHUM at 6 p.m. and at the JVD at 8 p.m. as scheduled.
# # #
Original Post: For nearly two decades, Ozomatli have been throwing a myriad of styles into their musical blender — Latin salsa, funk, hip hop and jazz, to skim the surface — while building a faithful live audience based on their ability to consistently bring the ruckus.
Humboldters can position their ears/bodies directly in the Ozomatli ruckus blast zone a number of ways Tuesday:
--Andrew Goff
The Lowdown Fun Committee
Godlin Gets Behind
Events
Ozomatli
Van Duzer Theater / 8 p.m. / $35 / $10 HSU students
"Bursting onto the L.A. stage with their first eponymously titled album in June 1998, Ozomatli capitalized on being the talk of the live music scene, particularly their show-stopping gigs at venues such as Dragonfly, Opium Den and The Viper Room."
826-3928 / Web site / View Comments
Movie Showtimes
Broadway Cinema
DAWN OF THE PLANET OF THE APES 2D: 2:20, 7:40
EXPENDABLES 3: 12:10, 3:05, 6:00, 8:55
GIVER: 12:50, 3:15, 5:40, 8:10
GUARDIANS OF THE GALAXY 2D: 3:10, 9:00
GUARDIANS OF THE GALAXY 3D: 12:15, 6:05
HUNDRED-FOOT JOURNEY: 12:05, 2:55, 5:45, 8:35
IF I STAY: 12:10, 2:50, 5:30, 8:05
INTO THE STORM: 12:00, 5:20
LET S BE COPS: 1:40, 4:15, 6:50, 9:30
LUCY: 2:30, 4:50, 7:15, 9:40
SIN CITY: A DAME TO KILL FOR 2D: 4:00, 9:20
SIN CITY: A DAME TO KILL FOR 3D: 1:20, 6:40
TEENAGE MUTANT NINJA TURTLES 2D: 11:55, 1:15, 3:45, 6:15, 8:45
WHAT IF: 2:05, 4:35, 7:05, 9:35
WHEN THE GAME STANDS TALL: 12:40, 3:30, 6:20, 9:10
Mill Creek Cinema
EXPENDABLES 3: 2:55, 5:50, 8:45
GIVER: 3:10, 5:35, 8:05
GUARDIANS OF THE GALAXY 2D: 6:10, 9:00
GUARDIANS OF THE GALAXY 3D: 3:15
IF I STAY: 3:25, 6:00, 8:35
LET S BE COPS: 4:15, 6:50, 9:25
SIN CITY: A DAME TO KILL FOR 2D: 6:35
SIN CITY: A DAME TO KILL FOR 3D: 3:55, 9:15
TEENAGE MUTANT NINJA TURTLES 2D: 3:50, 6:25, 8:55
WHEN THE GAME STANDS TALL: 3:30, 6:20, 9:10
Minor Theatre
BOYHOOD: 4:25, 8:00
HUNDRED-FOOT JOURNEY: 3:25, 6:15, 9:00
MAGIC IN THE MOONLIGHT: 4:10, 6:40, 9:10