Monday's Lowdown
Should you want to head out Monday, there is no shortage of stuff to do in your Lowdown below, but you could also stay in and watch Humboldt's latest YouTube sensation.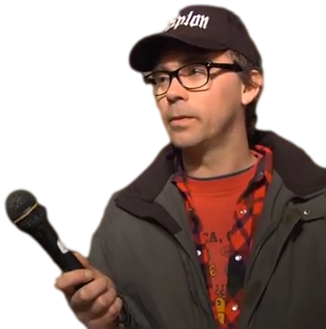 If you've ever seen Dutch Savage perform standup, you'll agree there was only so long the man's funny could be contained by local, dimly lit stages. Now he's breaking out with his own man-on-the-street interview show "Dutch Does..."! The concept? He, "Dutch", "does" stuff. He expanded the direction of the show during a heated Facebook exchange:
"We are planning on doing several but who ever knows what will happen with anything. The show wasn't even my idea, I was just asked recently if this was something I would be interested in and obviously I said "yes." I can tell you that the crew and I are planning on doing a "Dutch Does..." In Las Vegas next month, but that is all I will say at this time. All I really hope to achieve is to make people laugh."
Will Dutch achieve said hope? Sample below. In the first episode, Dutch heads to Redwood Acres to chat with some of the booth dwellers at Humboldt Artisans' annual Craft and Music Festival. Highlights include an interview with a jeweler in a pirate shirt, a performance by the Compost Mountain Boys, Dutch receiving a massage and doggie treat sampling. Enjoy.
The Lowdown Fun Committee
Andy Approves
Events
Movie Showtimes
Broadway Cinema
BOOK THIEF: 12:05, 3:05, 6:05, 9:05
DALLAS BUYERS CLUB: 1:00, 3:45, 6:35, 9:20
DELIVERY MAN: 5:45, 8:20
FROZEN 2D: 11:55, 12:35, 2:35, 3:15, 5:15, 7:50
HOBBIT: THE DESOLATION OF SMAUG 2D: 11:45, 1:20, 3:25, 5:00, 7:05, 8:40
HOBBIT: THE DESOLATION OF SMAUG 3D: 12:30, 4:10, 7:50
HOMEFRONT: 4:25, 9:30
HUNGER GAMES: CATCHING FIRE: 2:20, 5:40, 9:00
LAST VEGAS: 1:50, 6:55
OUT OF THE FURNACE: 12:50, 3:35, 6:25, 9:15
THOR: THE DARK WORLD 2D: 12:50, 3:30, 6:10, 8:50
TYLER PERRY S A MADEA CHRISTMAS: 1:10, 3:50, 6:30, 9:10
Mill Creek Cinema
DELIVERY MAN: 4:00, 9:10
FROZEN 2D: 5:25, 6:35, 8:00
HOBBIT: THE DESOLATION OF SMAUG 2D: 3:30, 5:10, 7:10, 8:50
HOBBIT: THE DESOLATION OF SMAUG 3D: 4:35, 8:10
HUNGER GAMES: CATCHING FIRE: 5:00, 8:20
OUT OF THE FURNACE: 3:40, 6:30, 9:20
THOR: THE DARK WORLD 2D: 3:20, 6:20, 9:00
Minor Theatre
HOBBIT: THE DESOLATION OF SMAUG 2D: 4:35, 8:10
HUNGER GAMES: CATCHING FIRE: 5:25, 8:45
PHILOMENA: 3:40, 6:05, 8:30