There Will Be a 'Chicano Elvis Impersonator' in Arcata Tonight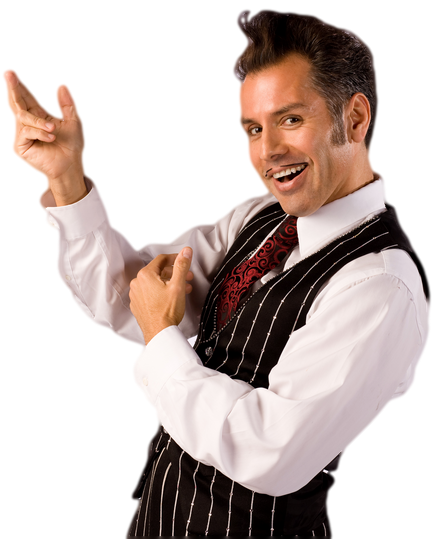 OK, Tuesday. Let's see … karaoke … couple of cribbage tournaments … Earth First! rally … Oh! Here we go! Chicano Elvis impersonator! Well, that has to win now, doesn't it?
Yes, for the last 25 years or so, Robert Lopez has been making audiences swoon with his Mariachi-meets-the-King persona El Vez. (See the YouTubage below if you'd really like to feeeeeel this gimmick.) Do tear-away gold lamé suits do it for you? Than you're gonna need to get to the Jambalaya tonight, son! Sharing the stage will be Mexican-American rockabilly queen Rosie Flores and local rock 'n' roll girl group The Lost Luvs. This is too much for Tuesday. Other goodies in your Lowdown below.
-Andrew Goff
The Lowdown Fun Committee
Andy Approves
Events
Movie Showtimes
Broadway Cinema
ANCHORMAN 2: THE LEGEND CONTINUES: 9:00
BOOK THIEF: 12:05, 3:05, 6:05, 9:05
DALLAS BUYERS CLUB: 1:00, 3:45, 6:35, 9:20
DELIVERY MAN: 5:45, 8:20
FROZEN 2D: 11:55, 12:35, 2:35, 3:15, 5:15, 7:50
HOBBIT: THE DESOLATION OF SMAUG 2D: 11:45, 1:20, 3:25, 5:00, 7:05, 8:40
HOBBIT: THE DESOLATION OF SMAUG 3D: 12:30, 4:10, 7:50
HOMEFRONT: 4:25, 9:30
HUNGER GAMES: CATCHING FIRE: 2:20, 5:40, 9:00
LAST VEGAS: 1:50, 6:55
OUT OF THE FURNACE: 12:50, 3:35, 6:25, 9:15
THOR: THE DARK WORLD 2D: 12:50, 3:30, 6:10
TYLER PERRY S A MADEA CHRISTMAS: 1:10, 3:50, 6:30, 9:10
Mill Creek Cinema
ANCHORMAN 2: THE LEGEND CONTINUES: 9:00
DELIVERY MAN: 4:00, 9:10
FROZEN 2D: 5:25, 6:35, 8:00
HOBBIT: THE DESOLATION OF SMAUG 2D: 3:30, 5:10, 7:10, 8:50
HOBBIT: THE DESOLATION OF SMAUG 3D: 4:35, 8:10
HUNGER GAMES: CATCHING FIRE: 5:00, 8:20
OUT OF THE FURNACE: 3:40, 6:30, 9:20
THOR: THE DARK WORLD 2D: 3:20, 6:20
Minor Theatre
HOBBIT: THE DESOLATION OF SMAUG 2D: 4:35, 8:10
HUNGER GAMES: CATCHING FIRE: 5:25, 8:45
PHILOMENA: 3:40, 6:05, 8:30