There May Be A DJ in Your Grocery Store This Week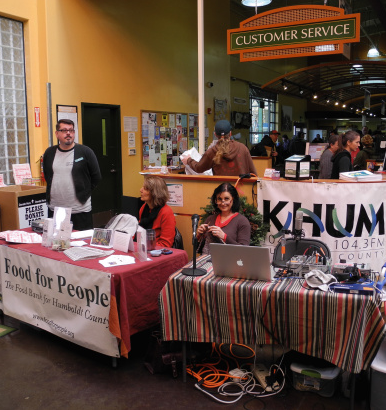 For better or worse, decibel levels within LoCOHQ have nose-dived this week. Where's everyone at?
Well, it seems our DJ officemates at KHUM are taking field trips to local grocery stores to pick up a few things for the fine folks at Food For People. Their shopping list:
Yes, for the remainder of this week, you could hang out with KHUM personalities near your favorite produce aisle while they urge you to share the contents of your shopping carts/wallets for the benefit of our local food bank. Now, let the Lowdown clue you in on where to catch 'em:
• Monday, 2-6 p.m.: Find Larry at the Eureka Co-op!
• Tuesday, 6-10 a.m.: Find Cliff at Wildberries!
• Wednesday, 10 a.m.-2 p.m.: Find Mike at Eureka Natural Foods!
• Thursday, 6 a.m.-10 a.m.: Find Cliff at Ray's Food Place in McKinleyville!
• Friday, 2 p.m.-7 p.m.: Find Larry and Amy at Grocery Outlet!
Of course, in the event that you're busy -- or hate KHUM or something -- you can also just kickdown to FFP via the interwebs. Other Tuesday options in your Lowdown below.
-Andrew Goff
The Lowdown Fun Committee
Godlin Gets Behind
Events
Movie Showtimes
Broadway Cinema
DALLAS BUYERS CLUB: 12:15, 3:45, 6:30, 9:15
DELIVERY MAN: 12:30, 3:10, 5:45, 8:20
ENDER S GAME: 3:25, 8:35
FREE BIRDS 2D: 12:00, 2:10
FROZEN 2D: 11:55, 12:35, 1:10, 2:35, 3:15, 5:55, 7:50, 8:30
FROZEN 3D: 5:15
GRAVITY 3D: 1:00, 6:15
HOMEFRONT: 1:40, 4:15, 6:50, 9:25
HUNGER GAMES: CATCHING FIRE: 12:20, 2:20, 3:40, 5:40, 7:00, 9:00
JACKASS PRESENTS: BAD GRANDPA: 4:25, 9:35
LAST VEGAS: 3:00, 5:35, 8:10
LEE DANIELS THE BUTLER: 6:40
OUT OF THE FURNACE: 12:40, 3:30, 6:20, 9:10
THOR: THE DARK WORLD 2D: 12:50, 3:30, 6:10, 8:50
Mill Creek Cinema
DELIVERY MAN: 3:10, 5:50, 8:55
FROZEN 2D: 3:35, 5:20, 6:20, 8:00
FROZEN 3D: 8:25
HOMEFRONT: 4:20, 6:50, 9:25
HUNGER GAMES: CATCHING FIRE: 4:10, 6:00, 7:30, 9:10
OUT OF THE FURNACE: 3:20, 6:10, 9:00
THOR: THE DARK WORLD 2D: 3:45, 6:30, 9:15
Minor Theatre
12 YEARS A SLAVE: 3:00, 6:00, 9:00
ALL IS LOST: 3:15, 6:15, 9:10
HUNGER GAMES: CATCHING FIRE: 5:25, 8:45