MSNBC Contributor Welcomed Into Arcata Tuesday Night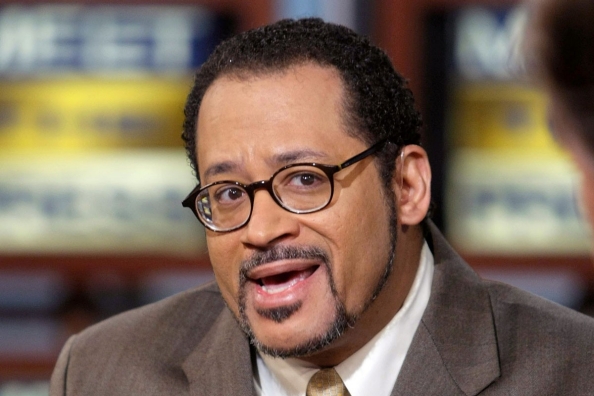 The Humboldt scenesters are keeping it pretty low key Tuesday night -- still recovering from the debaucherous bacchanal that is President's Day, we have to assume.
Of note, sociologist, author, radio host and frequent MSNBC contributor Michael Eric Dyson will give his take on the current state of race relations in America to anyone inclined to jaunt up to the Van Duzer Theatre. An ordained Baptist minister and Georgetown University professor, Dyson has penned bestselling books such as Making Malcolm X; Is Bill Cosby Right? Or Has the Black Middle Class Lost Its Mind?; and Come Hell or High Water: Hurricane Katrina and the Color of Disaster among others.
By percentage, will this be the most white room Dyson speaks to all year? Place your bets, Humboldt! Other Tuesday night options in your Lowdown below.
-Andrew Goff
The Lowdown Fun Committee
Godlin Gets Behind
Events
Michael Eric Dyson
Van Duzer Theater / 7 p.m. / $10
"Michael Eric Dyson eloquently melds scholarly insight with the phenomena of contemporary culture. His popular books such as Come Hell or High Water: Hurricane Katrina and the Color of Disaster, and Can You Hear Me Now? deeply probe social themes and cultural politics."
826-3928 / Web site / View Comments
Movie Showtimes
Broadway Cinema
ABOUT LAST NIGHT: 1:35, 4:05, 6:40, 9:15
AUGUST: OSAGE COUNTY: 2:15, 5:10, 8:05
ENDLESS LOVE: 12:35, 3:10, 5:45, 8:25
FROZEN 2D: 1:30, 4:10
I FRANKENSTEIN 2D: 7:15
I FRANKENSTEIN 3D: 2:35
LEGO MOVIE 2D: 11:55, 12:55, 2:30, 5:05, 6:05, 7:40
LEGO MOVIE 3D: 12:00, 3:30, 8:40
LONE SURVIVOR: 2:20, 5:20, 8:15
MONUMENTS MEN: 12:05, 3:00, 5:55, 8:50
RIDE ALONG: 1:55, 4:25, 6:55, 9:25
ROBOCOP: 12:30, 3:20, 6:15, 9:05
THAT AWKWARD MOMENT: 4:55, 9:35
VAMPIRE ACADEMY: 6:50, 9:30
WINTER S TALE: 12:10, 3:05, 6:00, 8:55
Mill Creek Cinema
ENDLESS LOVE: 1:20, 4:00, 6:35, 9:10
FROZEN 2D: 1:50, 4:30
LEGO MOVIE 2D: 12:20, 2:55, 5:30
LEGO MOVIE 3D: 8:00
LONE SURVIVOR: 1:05, 6:30
MONUMENTS MEN: 12:30, 3:20, 6:10, 9:00
RIDE ALONG: 1:40, 4:15, 6:45, 9:15
ROBOCOP: 12:10, 3:05, 5:55, 8:45
THAT AWKWARD MOMENT: 7:05, 9:30
VAMPIRE ACADEMY: 3:55, 9:20
WINTER S TALE: 12:00, 2:45, 5:40, 8:30
Minor Theatre
HER: 3:10, 6:00, 8:50
PHILOMENA: 3:20, 5:50, 8:15
WINTER S TALE: 3:30, 6:15, 9:00