Sunday's Redheaded Lowdown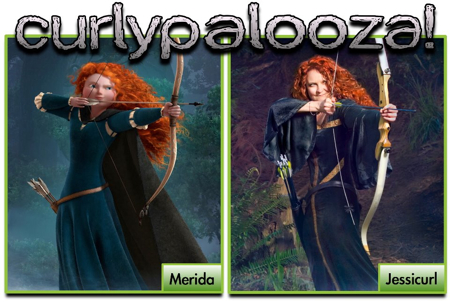 This could be tough. It's not often Humboldt has two curly, redhead-enhanced events to choose from, but by golly Sunday evening you'll have to choose between real-life and computer generated rockin' ringlets.
In one corner is Merida, star of the 2012 Pixar fantasy Brave (2012), a film about a princess who defies her kingdom's age-old customs by refusing to be betrothed. The image above suggests that at some point she shoots a bow and arrow. (LoCO has not seen this movie, but that seems like a safe bet, archery fans.) The film is showing at the Arcata Theatre Lounge, meaning this is a rare chance to put a check mark in the "take the kids to the movies" box while simultaneously numbing your senses with beer. Little victories.
In the other corner we have Jessica McGuinty, owner of local hair product phenomenon Jessicurl and also one of the Lowdown's many beloved disembodied heads (see below). She, along with the fine folks from Skin Illustrations Tattoo, will be the presenters at tonight's Meet the Humboldt Maker event at the Humboldt Bay Tourism Center in Old Town. And get this! According to McGuinty, if you agree to get a tattoo of the Jessicurl logo on your temple, you'll get a year's supply of Jessicurl products. That's a good deal, right? RIGHT?!?
Happy Sabbath. Choose your redhead wisely.
-Andrew Goff
The Lowdown Fun Committee
McGuinty Might
Events
Movie Showtimes
Broadway Cinema
ABOUT LAST NIGHT: 1:35, 4:05, 6:40, 9:15
AUGUST: OSAGE COUNTY: 2:15, 5:10, 8:05
ENDLESS LOVE: 12:35, 3:10, 5:45, 8:25
FROZEN 2D: 1:30, 4:10
I FRANKENSTEIN 2D: 7:15
I FRANKENSTEIN 3D: 2:35
LEGO MOVIE 2D: 11:55, 12:55, 2:30, 5:05, 6:05, 7:40
LEGO MOVIE 3D: 12:00, 3:30, 8:40
LONE SURVIVOR: 2:20, 5:20, 8:15
MONUMENTS MEN: 12:05, 3:00, 5:55, 8:50
RIDE ALONG: 1:55, 4:25, 6:55, 9:25
ROBOCOP: 12:30, 3:20, 6:15, 9:05
THAT AWKWARD MOMENT: 4:55, 9:35
VAMPIRE ACADEMY: 6:50, 9:30
WINTER S TALE: 12:10, 3:05, 6:00, 8:55
Mill Creek Cinema
ENDLESS LOVE: 1:20, 4:00, 6:35, 9:10
FROZEN 2D: 1:50, 4:30
LEGO MOVIE 2D: 12:20, 2:55, 5:30
LEGO MOVIE 3D: 8:00
LONE SURVIVOR: 1:05, 6:30
MONUMENTS MEN: 12:30, 3:20, 6:10, 9:00
RIDE ALONG: 1:40, 4:15, 6:45, 9:15
ROBOCOP: 12:10, 3:05, 5:55, 8:45
THAT AWKWARD MOMENT: 7:05, 9:30
VAMPIRE ACADEMY: 3:55, 9:20
WINTER S TALE: 12:00, 2:45, 5:40, 8:30
Minor Theatre
HER: 12:20, 3:10, 6:00, 8:50
PHILOMENA: 12:55, 3:20, 5:50, 8:15
WINTER S TALE: 12:45, 3:30, 6:15, 9:00