Redwood Acres Fair (or whatever it's called) This Week!

What's in a name? In recent years it's been called the "Humboldt Made Fair." This year they're gonna try out "The Best of Humboldt Fair." You've known it for years as the "Redwood Acres Fair." By any other name it would still smell of delicious garlic fries.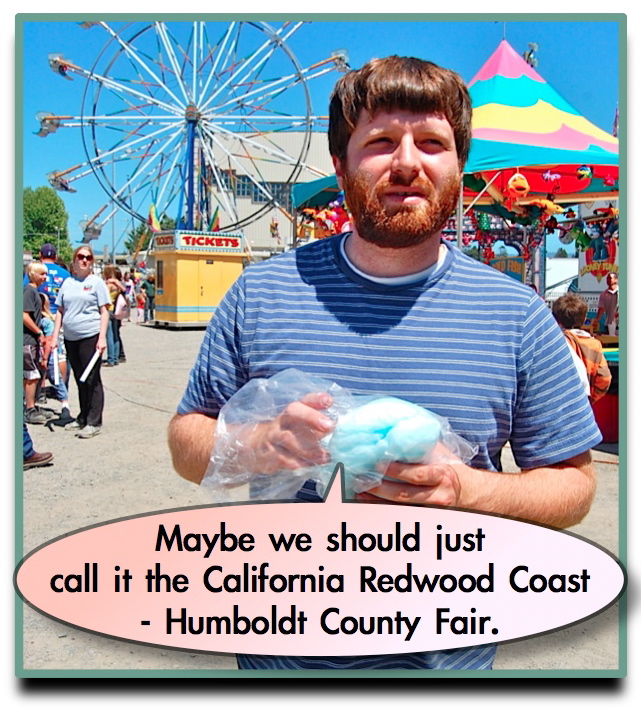 Whatever you call it, the thing is happening again this week from Thursday to Sunday at the Redwood Acres Fairgrounds. You know how this works: You got your midway rides, animal shows, carnival food, car races, livestock shows, live music. Hell there's even a ventriloquist scheduled.
And then you have your local angle. Various local products will be on display and for purchase in the rechristened "Best of Humboldt" Building. Also, be sure to check out special Humboldt Roller Derby bout on Thursday at 6 p.m.
Again, this thing starts Thursday (click here for the full schedule). If you're itching to go out Tuesday, peruse your Lowdown below.
-Andrew Goff
The Lowdown Fun Committee
Larry Likes
Events
Movie Showtimes
Broadway Cinema
AFTER EARTH: 1:15, 3:50, 6:25, 9:00
EPIC 2D: 12:25, 5:35
EPIC 3D: 3:00, 8:00
FAST AND FURIOUS 6: 12:30, 3:25, 6:20, 9:15
HANGOVER PART III: 1:50, 4:30, 7:00, 9:30
INTERNSHIP: 12:15, 2:00, 3:15, 4:55, 6:10, 7:40, 9:10
MAN OF STEEL 2D: 1:00, 4:25, 7:50
MAN OF STEEL 3D: 2:10, 5:30, 8:50
NOW YOU SEE ME: 11:50, 2:35, 5:20, 8:10
PURGE: 12:10, 2:30, 5:05, 7:25, 9:40
STAR TREK INTO THE DARKNESS 2D: 11:50, 2:40, 8:45
STAR TREK INTO THE DARKNESS 3D: 5:45
THIS IS THE END: 1:20, 4:00, 6:40, 9:20
Garberville Theater
Mill Creek Cinema
AFTER EARTH: 2:00, 4:30, 7:00, 9:30
EPIC 2D: 12:15, 2:45, 5:15, 7:40
INTERNSHIP: 12:25, 3:15, 6:05, 9:00
MAN OF STEEL 2D: 2:10, 5:30, 8:50
MAN OF STEEL 3D: 12:01, 1:00, 4:25, 7:50
NOW YOU SEE ME: 12:40, 3:30, 6:20, 9:10
PURGE: 12:35, 2:50, 5:10, 7:25, 9:40
THIS IS THE END: 1:20, 4:00, 6:40, 9:20
Minor Theatre
FRANCES HA: 4:55, 7:05, 9:15
INTERNSHIP: 3:35, 6:20, 9:05
MAN OF STEEL 2D: 5:25, 8:40