Lowdown: A Better Monday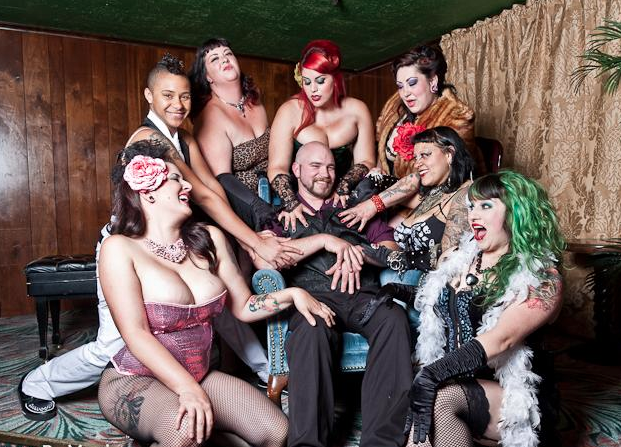 (Above: John McClurg lives life.)
Jah bless you, Va Va Voom Burlesque Vixens.
Monday, long bemoaned as the worst of the days that end in "y" will be significantly more "bare"able this week thanks to your hard working local tease artists. The Va Va Crew will invade the cavernous Nocturnum for a special work week sexy soiree they are calling Fantaisie Noir. Again, on a Monday.
In addition to the cast of VVVBV regulars, the event will feature Baltimore "boylesque" performer Paco Fish and New York 'lesquer Amber Ray. Also, DJ ItchieFingaz will keep the beats fresh throughout the evening, as he does.
This has "good week" written all over it, HumCo. Other options in your Lowdown below.
-Andrew Goff
The Lowdown Fun Committee
Larry Likes
Events
Movie Showtimes
Broadway Cinema
AFTER EARTH: 1:15, 3:50, 6:25, 9:00
EPIC 2D: 12:25, 5:35
EPIC 3D: 3:00, 8:00
FAST AND FURIOUS 6: 12:30, 3:25, 6:20, 9:15
HANGOVER PART III: 1:50, 4:30, 7:00, 9:30
INTERNSHIP: 12:15, 2:00, 3:15, 4:55, 6:10, 7:40, 9:10
MAN OF STEEL 2D: 1:00, 4:25, 7:50
MAN OF STEEL 3D: 2:10, 5:30, 8:50
NOW YOU SEE ME: 11:50, 2:35, 5:20, 8:10
PURGE: 12:10, 2:30, 5:05, 7:25, 9:40
STAR TREK INTO THE DARKNESS 2D: 11:50, 2:40, 8:45
STAR TREK INTO THE DARKNESS 3D: 5:45
THIS IS THE END: 1:20, 4:00, 6:40, 9:20
Garberville Theater
Mill Creek Cinema
AFTER EARTH: 2:00, 4:30, 7:00, 9:30
EPIC 2D: 12:15, 2:45, 5:15, 7:40
INTERNSHIP: 12:25, 3:15, 6:05, 9:00
MAN OF STEEL 2D: 2:10, 5:30, 8:50
MAN OF STEEL 3D: 12:01, 1:00, 4:25, 7:50
NOW YOU SEE ME: 12:40, 3:30, 6:20, 9:10
PURGE: 12:35, 2:50, 5:10, 7:25, 9:40
THIS IS THE END: 1:20, 4:00, 6:40, 9:20
Minor Theatre
FRANCES HA: 4:55, 7:05, 9:15
INTERNSHIP: 3:35, 6:20, 9:05
MAN OF STEEL 2D: 5:25, 8:40