Sunday, June 9, 2013's Lowdown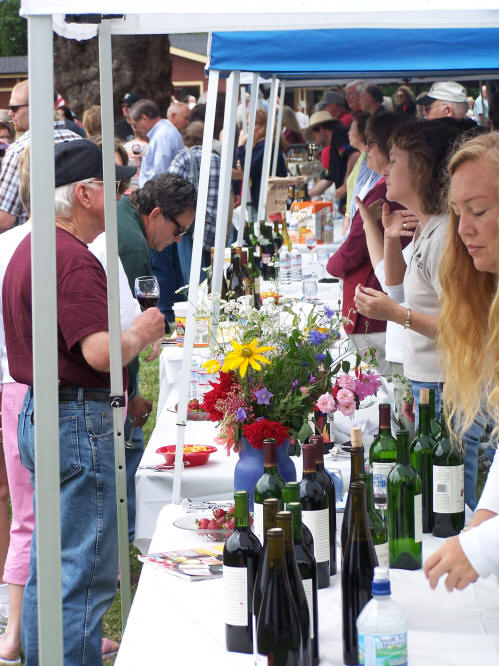 Just because this is our last chance to mention this until next season, this weekend's Humboldt Crabs opponents have a very funny name and deserve to be heckled until they cry. OK. Moving on ...
Wanna spend your Sabbath in Fortuna? Sunday, the art, wine and park-loving souls associated with the Fortuna Rotary Club proudly present Art and Wine in the Park, a day of local art and wine in Rohner Park. If it's not abundantly clear what the formula is here: Art + Wine + Park = what is happening on Sunday in Fortuna. Got it?
OK, there's other stuff too. Specifically, food booths featuring Humboldt Bay Oysters, hamburgers and pulled pork sandwiches. And of course the day needs a soundtrack: Twango Macallan will take stage from 12-4 p.m. and handle that.
If you hate any or all combinations or art, wine and/or parks, there's actually quite a few other things going on Sunday, including the final days of the Redwood Run, North Coast Open Studios and Furniture Fest, to name a few. Do something.
-Andrew Goff
The Lowdown Fun Committee
Larry Likes
Events
Movie Showtimes
Broadway Cinema
AFTER EARTH: 1:15, 3:50, 6:25, 9:00
EPIC 2D: 12:25, 5:35
EPIC 3D: 3:00, 8:00
FAST AND FURIOUS 6: 2:20, 3:10, 5:25, 8:30, 9:20
GREAT GATSBY 2D: 2:05, 5:15, 8:25
HANGOVER PART III: 1:45, 4:25, 7:00, 9:30
INTERNSHIP: 12:15, 2:00, 3:15, 4:55, 6:10, 7:50, 9:10
IRON MAN 3 2D: 11:55, 5:55, 8:55
IRON MAN 3 3D: 2:50
NOW YOU SEE ME: 11:50, 2:35, 5:20, 8:10
PURGE: 12:10, 2:30, 5:05, 7:25, 9:40
STAR TREK INTO THE DARKNESS 2D: 12:00, 2:40, 6:15, 8:50
STAR TREK INTO THE DARKNESS 3D: 11:50, 5:45
Garberville Theater
Mill Creek Cinema
AFTER EARTH: 1:45, 4:20, 6:55, 9:25
EPIC 2D: 2:25, 7:30
EPIC 3D: 11:55, 4:55
FAST AND FURIOUS 6: 12:00, 3:00, 6:00, 9:05
HANGOVER PART III: 2:00, 4:35, 7:05, 9:35
INTERNSHIP: 12:25, 3:15, 6:05, 8:55
NOW YOU SEE ME: 11:55, 2:45, 5:30, 8:15
PURGE: 12:40, 2:55, 5:10, 7:25, 9:40
STAR TREK INTO THE DARKNESS 2D: 12:05, 6:20, 9:20
STAR TREK INTO THE DARKNESS 3D: 3:10
Minor Theatre
FRANCES HA: 12:35, 2:45, 4:55, 7:05, 9:15
INTERNSHIP: 12:50, 3:35, 6:20, 9:05
STAR TREK INTO THE DARKNESS 2D: 12:25, 3:15, 6:05, 8:55