Wednesday, July 3, 2013's Lowdown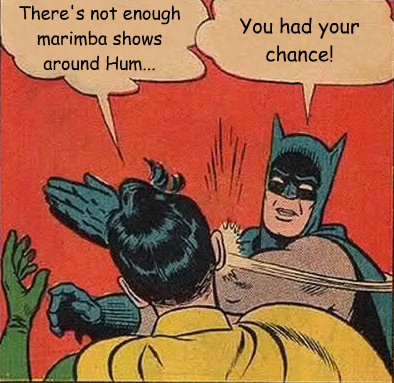 Now, no one is going to force you to immerse yourself in the over-two-week-long Zeltsman Marimba Festival. Maybe xylophones on steroids aren't your thing. But, dagnabbit, we better not hear any Humboldtians complaining that there's never any good marimba shows in this town after this. You'll earn a Robin-slap for that kinda lip.
Yes, the mallets will be flying in the coming days with multiple shows at both the Arcata Playhouse and HSU's Native Forum featuring over 50 performers from all over the world. For more on the festival, check out their website or the North Coast Journal's in-depth piece on its many facets. Below, find the schedule of remaining world class marimba shows in your neighborhood.
So much marimba! Less so in your Wednesday Lowdown below.
-Andrew Goff
The Lowdown Fun Committee
Larry Likes
Events
Movie Showtimes
Broadway Cinema
DESPICABLE ME 2 2D: 11:55, 12:35, 3:15, 5:05, 5:50, 8:25
DESPICABLE ME 2 3D: 2:30, 7:40
LONE RANGER: 12:45, 2:00, 4:15, 5:30, 7:50, 9:00
MAN OF STEEL 2D: 1:30, 8:10
MAN OF STEEL 3D: 4:50
MONSTERS UNIVERSITY 2D: 11:50, 1:10, 2:55, 5:20, 6:45
MONSTERS UNIVERSITY 3D: 8:35
NOW YOU SEE ME: 6:30, 6:40
THE HEAT: 12:20, 1:15, 3:10, 4:05, 6:00, 6:55, 8:50, 9:40
THIS IS THE END: 9:20
WHITE HOUSE DOWN: 12:00, 12:50, 3:00, 3:45, 6:10, 9:15
WORLD WAR Z 2D: 2:35, 3:55, 5:40, 8:05, 9:30
WORLD WAR Z 3D: 12:05
Garberville Theater
Mill Creek Cinema
DESPICABLE ME 2 2D: 12:20, 2:15, 2:55, 5:35, 7:25, 8:10, 9:40
DESPICABLE ME 2 3D: 11:45, 4:55
LONE RANGER: 2:00, 5:25, 8:50
MAN OF STEEL 2D: 1:40, 5:00, 8:20
MONSTERS UNIVERSITY 2D: 11:40, 1:00, 3:05, 6:35
MONSTERS UNIVERSITY 3D: 8:30
THE HEAT: 12:30, 3:20, 6:10, 9:00
THIS IS THE END: 9:30
WHITE HOUSE DOWN: 12:50, 3:50, 6:50
WORLD WAR Z 2D: 12:10, 3:45, 9:20
WORLD WAR Z 3D: 5:45
Minor Theatre
DESPICABLE ME 2 2D: 3:30, 6:00, 8:30
LONE RANGER: 4:55, 8:15
WORLD WAR Z 2D: 3:55, 6:35, 9:15