Arcata Wins Tuesday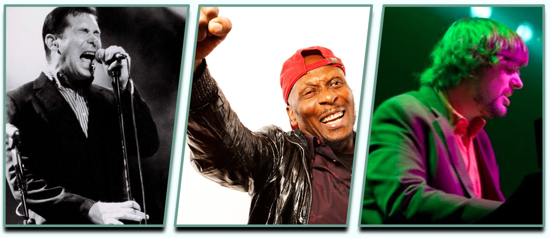 As is often the midweek case, Arcata owns the out and about action with, count 'em, three special shows highlighting Tuesday night:
¡UNO!: HumBrews plays host to veteran New York ska revivalists The Slackers who, despite their name, clearly have worked pretty hard at keeping the party going to make it to sustain two decades touring together.
¡DOS!: Arcata's funk sanctuary Jambalaya will be ministered to by accomplished keyboardist Robert Walter -- the former Greyboy Allstars member rolls into town with his current band 20th Congress. Local funk army Motherlode opens the service. (Programming note: Walter will also stop by KHUM DJ Larry Trask's show at 2 p.m.)
¡TRES!: There's some reggae legend at the Van Duzer or something.
TGIT, y'all.
-Andrew Goff
The Lowdown Fun Committee
Larry Likes
Events
The Slackers
Humboldt Brews / 9:30 p.m. / $15 / 21+
"While they have been influenced, and even personally taught by Jamaican ska/reggae originators like the Skatalites and the Upsetters the band sees its music as an extension of the traditions of the United States."
826-2739 / Web site / View Comments
Movie Showtimes
Broadway Cinema
DESPICABLE ME 2 2D: 1:50, 4:20
ELYSIUM: 12:05, 2:40, 5:30, 8:15
GETAWAY: 12:15, 2:35, 4:55, 7:20, 9:40
LEE DANIELS THE BUTLER: 12:00, 3:00, 6:05, 9:05
MORTAL INSTRUMENTS: CITY OF BONES: 11:50, 2:50, 5:50, 8:50
ONE DIRECTION: THIS IS US 2D: 4:00
ONE DIRECTION: THIS IS US 3D: 1:35, 6:20, 8:45
PLANES 2D: 11:55, 2:20, 4:40, 7:00
RIDDICK: 11:55, 2:50, 5:45, 8:40, 9:20
SPECTACULAR NOW: 1:10, 3:35, 6:00, 8:30
THE WORLD S END: 12:45, 3:30, 6:15, 9:00
THIS IS THE END: 1:30, 4:10, 6:50, 9:35
WE RE THE MILLERS: 1:00, 3:45, 6:30, 9:15
YOU RE NEXT: 6:55, 9:25
Mill Creek Cinema
ELYSIUM: 3:50, 6:30, 9:05
LEE DANIELS THE BUTLER: 3:00, 6:00, 9:00
MORTAL INSTRUMENTS: CITY OF BONES: 3:15, 6:20
ONE DIRECTION: THIS IS US 2D: 8:00
ONE DIRECTION: THIS IS US 3D: 3:20, 5:40
PLANES 2D: 4:40
RIDDICK: 2:55, 5:50, 8:45, 9:20
THIS IS THE END: 4:30, 7:05, 9:40
WE RE THE MILLERS: 4:10, 6:50, 9:30
YOU RE NEXT: 6:55, 9:20
Minor Theatre
BLACKFISH: 3:55, 6:10, 8:25
BLUE JASMINE: 4:15, 6:40, 9:10
CLOSED CIRCUIT: 4:40, 7:00, 9:20