This is the Day You Wish You'd Bought Those Sara Bareilles Tickets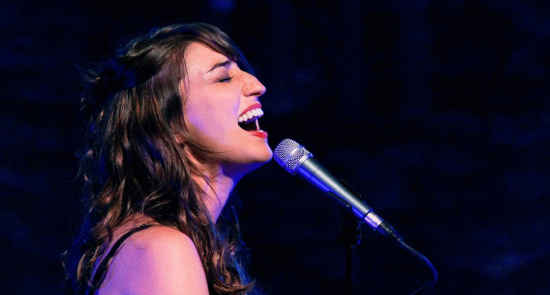 For the 800 or so non-procrastinators who snatched up tickets a couple months back, tonight is their date with Sara Bareilles. Eureka's most famous daughter will play to a sold out crowd Sunday at the Van Duzer Theatre. A good time will be had by all.
Then there's the rest of you unfortunate souls whose night will feature zero serenading courtesy of a really famous person. Luckily, the Lowdown is here to lessen your turmoil. One time saxophonist in Miles Davis' band Bill Evans will roll into HumBrews tonight with his band Soulgrass. That's soothing, right? Oh, and Steel Standing are playing their final show ever down sunny Fortuna way in Eel River Brewery's magical beer garden. Boom!
See? Even without Sara, you're gonna be just fine.
-Andrew Goff
The Lowdown Fun Committee
Larry Likes
Events
Natural Fiber Fair
Arcata Community Center / 10 a.m.-5 p.m. / $5 / Free Kids and students
Yarn, fleece, fiber, fabric and tools for sale. Free demos and half and full day workshops, exhibits in spinning, weaving, felting, dyeing, knitting and more! Kid's Craft Zone. Bring your projects and join the Fiber Circle, make connections with the fiber community.
599-2729 / naturalfiberfair@yahoo.com / Web site / View Comments
Sara Bareilles
Van Duzer Theater / 8 p.m.
Sara Bareilles first achieved mainstream critical praise in 2007 with her widely successful hit, "Love Song" reaching #1 in 22 countries around the world from her debut album Little Voice. Since then, the Eureka, California native has gone on to sell over 1 million copies of her debut album.
826-3928 / Web site / View Comments
Bill Evans' Soulgrass
Humboldt Brews / 9 p.m. / $20 / 21+
Saxophonist Bill Evans first joined Miles Davis group in 1980 at the age of 22, and went on to record six records and tour the world with Davis numerous times over a four-year period. He then toured and recorded three CDs with John McLaughlin and later played with Herbie Hancock.
826-2739 / Web site / View Comments
Movie Showtimes
Broadway Cinema
DESPICABLE ME 2 2D: 1:50, 4:20
ELYSIUM: 12:05, 2:40, 5:30, 8:15
GETAWAY: 12:15, 2:35, 4:55, 7:20, 9:40
LEE DANIELS THE BUTLER: 12:00, 3:00, 6:05, 9:05
MORTAL INSTRUMENTS: CITY OF BONES: 11:50, 2:50, 5:50, 8:50
ONE DIRECTION: THIS IS US 2D: 4:00
ONE DIRECTION: THIS IS US 3D: 1:35, 6:20, 8:45
PLANES 2D: 11:55, 2:20, 4:40, 7:00
RIDDICK: 11:55, 2:50, 5:45, 8:40, 9:20
SPECTACULAR NOW: 1:10, 3:35, 6:00, 8:30
THE WORLD S END: 12:45, 3:30, 6:15, 9:00
THIS IS THE END: 1:30, 4:10, 6:50, 9:35
WE RE THE MILLERS: 1:00, 3:45, 6:30, 9:15
YOU RE NEXT: 6:55, 9:25
Mill Creek Cinema
ELYSIUM: 1:10, 3:50, 6:30, 9:05
LEE DANIELS THE BUTLER: 12:00, 3:00, 6:00, 9:00
MORTAL INSTRUMENTS: CITY OF BONES: 12:15, 3:15, 6:20
ONE DIRECTION: THIS IS US 2D: 8:00
ONE DIRECTION: THIS IS US 3D: 1:00, 3:20, 5:40
PLANES 2D: 11:55, 2:20, 4:40
RIDDICK: 12:00, 2:55, 5:50, 8:45, 9:20
THIS IS THE END: 1:55, 4:30, 7:05, 9:40
WE RE THE MILLERS: 1:30, 4:10, 6:50, 9:30
YOU RE NEXT: 6:55, 9:20
Minor Theatre
BLACKFISH: 1:40, 3:55, 6:10, 8:25
BLUE JASMINE: 1:50, 4:15, 6:40, 9:10
CLOSED CIRCUIT: 2:20, 4:40, 7:00, 9:20