'Public Enemy' Bill Ayers Speaks in (Where Else!?) Arcata Tonight

Despite his many years devoted to teaching and social justice, it seems inevitable that Bill Ayers will live out his days known mostly as the "terrorist" candidate Barack Obama supposedly "palled around with" in his youth.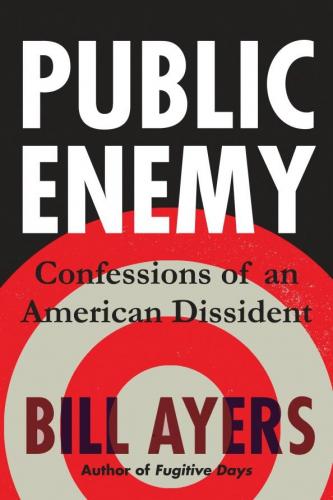 So why not own it? Instead of writing another tome about educational theory, Ayers' latest output, Public Enemy: Confessions of an American Dissident, chronicles what life's been like since he became the unlikely focus of the 2008 United States Presidential campaign. Y'all can hear him wax about his death threats Tuesday night at Northtown Books.
If you're unaware, Humboldt is not just another stop on a book tour for Ayers. The University of Illinois professor and his wife Bernadine Dohrn have kept a summer home here for over three decades. Previous speaking engagements in Arcata have featured Tea Party protests and photo ops with local politicos that pop up now and again. Do us a favor: Try to contain your passion Tuesday, HumCo. Or, attend a less politically polarizing gathering found in your Tuesday Lowdown below.
-Andrew Goff
The Lowdown Fun Committee
Mike Mandates
Events
Movie Showtimes
Broadway Cinema
CAPTAIN PHILLIPS: 2:00, 5:15, 8:20
CARRIE: 2:05, 4:35, 9:40
CLOUDY WITH A CHANCE OF MEATBALLS 2 2D: 1:35, 4:00
COUNSELOR: 1:00, 3:40, 6:20, 9:00
ENDER S GAME: 12:05, 2:55, 5:45, 6:30, 8:40, 9:20
ESCAPE PLAN: 6:55, 9:30
FREE BIRDS 2D: 11:55, 1:10, 3:35, 4:40, 5:55, 8:15
FREE BIRDS 3D: 2:15, 7:05
FRUITVALE STATION: 2:25, 7:25, 9:25
GRAVITY 2D: 4:15
GRAVITY 3D: 1:50, 6:40, 9:05
JACKASS PRESENTS: BAD GRANDPA: 1:15, 2:30, 3:45, 4:50, 6:05, 7:15, 8:30, 9:35
LAST VEGAS: 12:45, 3:25, 6:10, 8:50
WIZARD OF OZ 3D: 12:00, 4:30
Mill Creek Cinema
CAPTAIN PHILLIPS: 5:25, 8:30
CARRIE: 6:40, 9:15
CLOUDY WITH A CHANCE OF MEATBALLS 2 2D: 4:15
COUNSELOR: 3:45, 6:25, 9:05
ENDER S GAME: 3:20, 6:10, 9:00
FREE BIRDS 2D: 3:10, 5:35
FREE BIRDS 3D: 7:55
GRAVITY 2D: 9:20
GRAVITY 3D: 4:35, 7:00
JACKASS PRESENTS: BAD GRANDPA: 4:50, 7:10, 9:30
LAST VEGAS: 3:25, 6:00, 8:40
Minor Theatre
GRAVITY 2D: 4:40, 6:55, 9:10
INEQUALITY FOR ALL: 3:50, 6:05, 8:20
LAST VEGAS: 4:00, 6:30, 9:00