Race Car Drivin' Mr. Spock Has Unwanted ESP ... Tonight in Arcata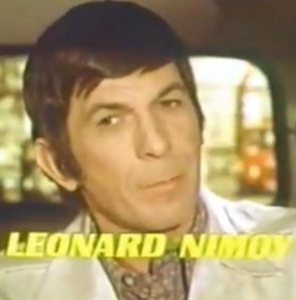 Your Lost Coast Outpost made it out to last week's Arcata Theatre Lounge Sci-Fi Pint and Pizza Night screening of King Kong. Well attended, great movie, food was a bit pricey and took a little long, but that didn't really hinder the joy.
One thing we particularly enjoyed was the trailer for the film their showing at tonight's edition of SFPPN. In brief: Baffled! (1973) stars Leonard "I Am Not Spock" Nimoy as a race car driver who can see into the future. Unfortunately, his visions are usually of people being killed and they inconveniently occur when he's taking turns at 200mph. (Car crashes! See below!) The TV movie was intended to be a pilot for a series that never happened. See what you never missed tonight at the ATL!
-Andrew Goff
The Lowdown Fun Committee
Andy Approves
Events
Movie Showtimes
Broadway Cinema
CAPTAIN PHILLIPS: 2:00, 5:15, 8:20
CARRIE: 2:05, 4:35, 9:40
CLOUDY WITH A CHANCE OF MEATBALLS 2 2D: 1:35, 4:00
COUNSELOR: 1:00, 3:40, 6:20, 9:00
ENDER S GAME: 12:05, 2:55, 5:45, 6:30, 8:40, 9:20
ESCAPE PLAN: 6:55, 9:30
FREE BIRDS 2D: 11:55, 1:10, 3:35, 4:40, 5:55, 8:15
FREE BIRDS 3D: 2:15, 7:05
FRUITVALE STATION: 2:25, 7:25, 9:25
GRAVITY 2D: 4:15
GRAVITY 3D: 1:50, 6:40, 9:05
JACKASS PRESENTS: BAD GRANDPA: 1:15, 2:30, 3:45, 4:50, 6:05, 7:15, 8:30, 9:35
LAST VEGAS: 12:45, 3:25, 6:10, 8:50
WIZARD OF OZ 3D: 12:00, 4:30
Mill Creek Cinema
CAPTAIN PHILLIPS: 5:25, 8:30
CARRIE: 6:40, 9:15
CLOUDY WITH A CHANCE OF MEATBALLS 2 2D: 4:15
COUNSELOR: 3:45, 6:25, 9:05
ENDER S GAME: 3:20, 6:10, 9:00
FREE BIRDS 2D: 3:10, 5:35
FREE BIRDS 3D: 7:55
GRAVITY 2D: 9:20
GRAVITY 3D: 4:35, 7:00
JACKASS PRESENTS: BAD GRANDPA: 4:50, 7:10, 9:30
LAST VEGAS: 3:25, 6:00, 8:40
Minor Theatre
GRAVITY 2D: 4:40, 6:55, 9:10
INEQUALITY FOR ALL: 3:50, 6:05, 8:20
LAST VEGAS: 4:00, 6:30, 9:00