Sunday, May 26, 2013's Lowdown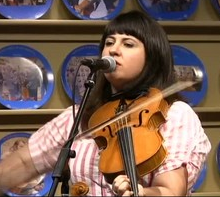 Your Lost Coast Outpost has been "hard" at "work" sucking up all the Kinetic Grand Championship spirit we can -- see our "hard" "work" here -- but there is other stuff happening on this not-supposed-to-be beautiful Humboldt Sunday.
If you're looking, hear some ancient fiddle styles attached to open-hearted original pop songs courtesy of Laura Cortese (right) at the Arcata Playhouse. Or, if you need to get down since you don't have to work tomorrow, Future Productions is supplying the bass music at Nocturnum with Antiserum and Helicopter Showdown.
The Lowdown Fun Committee
Larry Likes
Events
Movie Showtimes
Broadway Cinema
EPIC 2D: 11:35, 2:10, 4:45, 5:35, 7:20, 9:40
EPIC 3D: 12:20, 2:55, 8:15
FAST AND FURIOUS 6: 11:55, 1:55, 3:00, 5:00, 6:05, 8:05, 9:10
GREAT GATSBY 2D: 2:00, 5:15, 8:25
HANGOVER PART III: 12:55, 1:45, 3:30, 4:25, 6:00, 7:00, 8:40, 9:30
IRON MAN 3 2D: 11:45, 2:50, 5:55, 9:00
IRON MAN 3 3D: 2:20, 5:25, 8:35
OBLIVION: 12:25, 3:25, 6:20, 9:15
STAR TREK INTO THE DARKNESS 2D: 12:00, 3:10, 6:15, 9:20
STAR TREK INTO THE DARKNESS 3D: 11:40, 2:40, 5:45, 8:50
Mill Creek Cinema
EPIC 2D: 12:40, 2:25, 3:15, 5:45, 7:30, 8:20
EPIC 3D: 11:55, 4:55
FAST AND FURIOUS 6: 12:00, 3:00, 6:00, 9:05
GREAT GATSBY 2D: 11:45, 5:50
GREAT GATSBY 3D: 2:45, 9:10
HANGOVER PART III: 1:45, 4:20, 6:55, 9:30
IRON MAN 3 2D: 2:50, 8:55
IRON MAN 3 3D: 11:50, 6:10
STAR TREK INTO THE DARKNESS 2D: 12:05, 3:10, 6:20, 9:20
STAR TREK INTO THE DARKNESS 3D: 2:20, 5:25, 8:30
Minor Theatre
GREAT GATSBY 2D: 2:10, 5:20, 8:30
HANGOVER PART III: 1:50, 4:20, 6:50, 9:20
STAR TREK INTO THE DARKNESS 2D: 12:15, 3:05, 6:00, 8:55