Lowdown: Humboldt's Classic Rockin' Friday
'Tis Friday, Humboldt! Do you love Creedence songs? Of course you do.
Thus, with the number of ambitious classic rock-respecting bands whittled down to the róck de la róck, KWPT's month-long Classic Cover Contest reaches its thrilling conclusion tonight at Humboldt Brews. On a night also reserved for celebration of The Point's birthday, north coast bands Monihan, Martin and Sleep, Doug Fir and the 2x4s and The Good Homosapiens will take the stage to determine forevermore (until next year) who is the most classic. For those about to (classic) rock, we salute ye.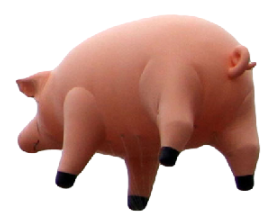 Now, for those of you in SoHum who dig on the music of several decades ago who don't want to make the trek north (it's far), fret not. EPIC's Annual Fall Celebration takes place tonight at the Mateel Community Center and those fun-loving enviros have booked none other than the regions most tireless Pink Floyd tribute band House of Floyd to shoot lasers over the heads of assembled treehuggers. Whee!
Long live rock and stuff.
--Andrew Goff
The Lowdown Fun Committee
Andy Approves
Events
Ocean Night: Step Into Liquid
Arcata Theatre Lounge / 6:30 p.m. / $3 donation
Documentary which centers on a cross-section of characters who come from many walks of life, but share one thing in common: the need to surf. Sponsored by Northcoast Environmental Center, Humboldt Surfrider and Humboldt Baykeeper.
822-6918 / jsavage@yournec.org / Web site / View Comments
Other Desert Cities
Redwood Curtain Theatre / 8 p.m. / $15 / $10 previews/thursdays / $20 Gala opening 11/1
Brooke Wyeth returns home to Palm Springs after a six-year absence to celebrate Christmas with her wealthy, conservative parents, her brother, and her aunt. Brooke announces that she is about to publish a memoir dredging up a pivotal and tragic event in the family's history. Uh oh!
443-7688 / boxoffice@redwoodcurtain.com / Web site / View Comments
KWPT's 2014 Classic Cover Contest Finale
Humboldt Brews / 9 p.m. / $5 / 21+
All month long you've reveled in the triumphs and the defeat of our local musicians going head to head in an on air battle for the glory.. Well, the finish line is nigh. Join the top three Humboldt voted favorites -- Monihan Martin and Sleep, The Good Homosapiens and Doug Fir and the 2x4s.
826-2739 / Web site / View Comments
Movie Showtimes
Broadway Cinema
ALEXANDER AND THE TERRIBLE HORRIBLE NO GOOD VERY BAD DAY: 1:40, 3:50, 6:00
BIG HERO 6 2D: 12:00, 2:45, 5:30, 8:10
BIG HERO 6 3D: 12:45, 3:30, 6:15, 8:55
BOOK OF LIFE 2D: 12:50, 3:15, 5:40
EQUALIZER: 3:10, 9:15
FURY: 2:25, 5:35, 8:40
GONE GIRL: 12:00, 6:05
INTERSTELLAR: 12:10, 1:05, 3:55, 4:50, 7:40, 8:30
JOHN WICK: 1:30, 4:00, 6:30, 9:05
JUDGE: 8:20
MAZE RUNNER: 8:00
NIGHTCRAWLER: 1:00, 3:45, 6:35, 9:20
OUIJA: 1:55, 4:45, 7:10, 9:30
ST VINCENT: 12:55, 3:35, 6:10, 8:45
Mill Creek Cinema
ALEXANDER AND THE TERRIBLE HORRIBLE NO GOOD VERY BAD DAY: 4:30
BEFORE I GO TO SLEEP: 9:10
BIG HERO 6 2D: 12:00, 2:45, 5:30, 8:10
BIG HERO 6 3D: 12:45, 3:30, 6:15, 8:55
BOOK OF LIFE 2D: 2:00, 6:45
INTERSTELLAR: 12:10, 1:05, 3:55, 4:50, 7:40, 8:30
NIGHTCRAWLER: 1:00, 3:45, 6:35, 9:20
OUIJA: 12:00, 2:20, 4:40, 7:00, 9:30
ST VINCENT: 12:35, 3:10, 5:45, 8:20
Minor Theatre
BLUE ROOM: 3:00, 5:05, 7:10, 9:15
INTERSTELLAR: 4:20, 8:00
ST VINCENT: 3:50, 6:25, 9:00