Lowdown: Monday Shroomin'
Congrats! If you are reading this, you survived Halloweekend, Humboldter. Now that everyone has removed their scary costumes, it feels safe to talk 'shrooms.
First though, we'll acknowledge that Derek Trucks and Susan Tedeschi's rippin' blues rock supergroup the Tedeschi Trucks Band will drop many a lick on the Van Duzer Theatre stage, and if you have $75 to spend like it's nothing you should absolutely inject those riffs into your blood stream.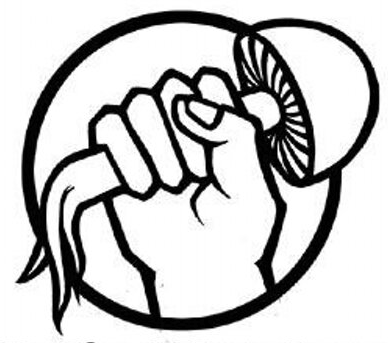 For the rest of us, your best Monday bet for feeling something you normally wouldn't has to be the Radical Mycology Tour which takes on two forms in Humboldt today. First, The Siren's Song Tavern plays host to musical weirdness tonight, highlighted by a performance by former Humboldter Willoughby Arevalo. Here is how his performance is being promoted:
Arevalo will perform solo as Versionary, bringing back for the first time a piece that debuted in Eureka two years ago, called "The Sex Life of Mushrooms." It is a performance-lecture incorporating music and spoken word, a juicy, in-depth, innuendo-laden personification of the life cycle of mushrooms. It addresses ideas about gender politics, mating types, mate sensing molecules, evolutionary advantages of sexual diversity, mushrooms as fertility symbols, fungal ecology, and more.
Sure! And that's not all! A scrolling of today's Lowdown listings reveals that, if you need more fungi, fun guy, the Radical Mycology tour offers a two-hour presentation at The Sanctuary in Arcata covering "uses of fungi for personal, societal, and ecological healing."
This Monday truly provides enough 'shroom for all.
--Andrew Goff
The Lowdown Fun Committee
Godlin Gets Behind
Events
Tedeschi Trucks Band
Van Duzer Theater / 8 p.m. / $75 / $35 HSU students
In just three years, this 11-member collective led by husband-wife duo Derek Trucks and Susan Tedeschi has taken its roots-rich musical mix to audiences across the globe and become a proven musical powerhouse.
826-3928 / Web site / View Comments
Movie Showtimes
Broadway Cinema
ALEXANDER AND THE TERRIBLE HORRIBLE NO GOOD VERY BAD DAY: 12:35, 2:45, 4:55, 7:05
BEFORE I GO TO SLEEP: 1:10, 3:30, 5:55, 8:15
BEST OF ME: 9:10
BOOK OF LIFE 2D: 11:55, 12:00, 2:10, 4:35
BOOK OF LIFE 3D: 7:00
DRACULA UNTOLD: 4:20, 9:40
EQUALIZER: 1:15, 6:40
FURY: 2:25, 5:35, 8:40
GONE GIRL: 1:45, 5:10, 8:30
JOHN WICK: 1:30, 4:00, 6:30, 9:05
JUDGE: 1:25, 4:40, 7:50
MAZE RUNNER: 9:15
NIGHTCRAWLER: 12:30, 3:15, 6:05, 8:55
OUIJA: 1:55, 4:50, 7:10, 9:30
SAW (RE-RELEASE): 1:40, 4:15, 6:50, 9:25
ST VINCENT: 1:00, 3:35, 6:10, 8:45
Mill Creek Cinema
ALEXANDER AND THE TERRIBLE HORRIBLE NO GOOD VERY BAD DAY: 3:50, 6:00, 8:10
BEFORE I GO TO SLEEP: 4:25, 6:45, 9:05
BOOK OF LIFE 2D: 4:35, 7:00
DRACULA UNTOLD: 4:10, 9:30
FURY: 5:35, 8:45
JUDGE: 6:25
MAZE RUNNER: 9:15
NIGHTCRAWLER: 3:25, 6:10, 9:00
OUIJA: 4:50, 7:05, 9:20
ST VINCENT: 3:40, 6:15, 8:50
Minor Theatre
FURY: 5:25, 8:30
GONE GIRL: 4:55, 8:15
ST VINCENT: 3:50, 6:25, 9:00