Wednesday, June 5, 2013's Lowdown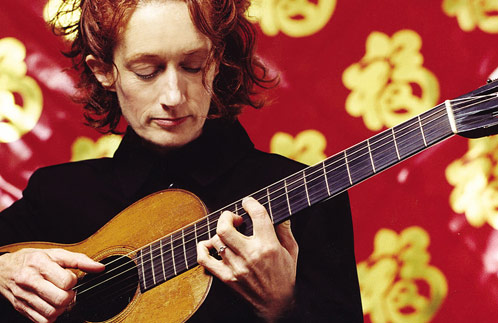 Having midweek shows pop up in Humboldt always feels like we're getting away with something. Oh well.
Getting her start playing guitar-led pop and folk songs in San Francisco coffee houses in the '70s, Patty Larkin has had long career. After graduating from the University of Oregon she studied jazz guitar at the well-known Berklee Collage of music in Boston and released her first album in 1985.
Nearly 30 years and a dozen odd albums later, she'll roll into the Arcata Playhouse on Wednesday for an intimate night of stories and songs. Watch her performance of her song -- not Leonard Cohen's tune -- "Hallelujah" below and/or scroll farther down for the rest of today's Lowdown.
(PROGRAMMING NOTE: Patty Larkin will drop in on KHUM's Mike Dronkers today 'round noonish Wednesday.)
-Andrew Goff
The Lowdown Fun Committee
Larry Likes
Events
Movie Showtimes
Broadway Cinema
AFTER EARTH: 1:15, 3:50, 6:25, 9:00, 9:40
EPIC 2D: 2:10, 4:45, 5:35, 7:20, 8:20
EPIC 3D: 12:20, 2:55
FAST AND FURIOUS 6: 11:55, 1:55, 3:00, 5:00, 6:05, 8:10, 9:10
GREAT GATSBY 2D: 2:00, 5:15, 8:25
HANGOVER PART III: 12:55, 1:45, 3:30, 4:25, 6:00, 7:00, 8:40, 9:30
IRON MAN 3 2D: 5:55, 8:55
IRON MAN 3 3D: 2:50
NOW YOU SEE ME: 11:55, 2:30, 5:20, 8:05
STAR TREK INTO THE DARKNESS 2D: 12:00, 3:10, 6:15, 9:20
STAR TREK INTO THE DARKNESS 3D: 2:40, 5:45, 8:50
Garberville Theater
Mill Creek Cinema
AFTER EARTH: 4:20, 6:55, 9:30
EPIC 2D: 3:15, 5:45, 7:30, 8:20
EPIC 3D: 4:55
FAST AND FURIOUS 6: 3:00, 6:00, 9:05
HANGOVER PART III: 4:35, 7:05, 9:35
IRON MAN 3 2D: 2:50, 8:55
IRON MAN 3 3D: 6:10
NOW YOU SEE ME: 2:45, 5:30, 8:15
STAR TREK INTO THE DARKNESS 2D: 6:20, 9:20
STAR TREK INTO THE DARKNESS 3D: 3:10
Minor Theatre
GREAT GATSBY 2D: 5:20, 8:30
HANGOVER PART III: 4:20, 6:50, 9:20
STAR TREK INTO THE DARKNESS 2D: 3:05, 6:00, 8:55