Humboldt Commemorates 9/11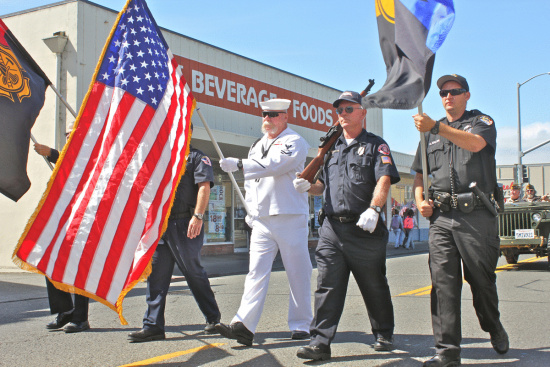 (Above: Last year's 9/11 Parade in Fortuna.)
In the event that you'd like to gather with other Humboldters to have a solemn 9/11 moment of remembrance, you have a couple options:
Humboldt Bay Fire and the Eureka Police Department will hold a bell ceremony at noon ceremony at Humboldt Bay Fire Station No. 1 in Eureka.
Fortuna's annual 9/11 Memorial Parade will again proceed down Main Street starting at noon ending with a patriotic ceremony at the Veteran's Memorial Building. The Outpost attended this event last year. It featured a tank.
Traditional Lowdown listings below.
--Andrew Goff
Events
Movie Showtimes
Broadway Cinema
AS ABOVE SO BELOW: 12:00, 2:25, 4:50, 7:15, 9:40
CALVARY: 1:20, 6:40
DOLPHIN TALE 2: 7:00
EXPENDABLES 3: 3:30, 8:50
GIVER: 1:00, 6:25
GUARDIANS OF THE GALAXY 2D: 12:15, 3:10, 6:05, 9:00
HUNDRED-FOOT JOURNEY: 12:05, 2:55, 5:45, 8:35
IDENTICAL: 12:25, 3:00, 5:40, 8:20
IF I STAY: 12:10, 2:50, 5:30, 8:05
LET S BE COPS: 1:40, 4:15, 9:30
LUCY: 2:30, 4:55, 7:20, 9:40
NOVEMBER MAN: 12:50, 3:35, 6:20, 9:05
SIN CITY: A DAME TO KILL FOR 2D: 9:20
SIN CITY: A DAME TO KILL FOR 3D: 4:00
TEENAGE MUTANT NINJA TURTLES 2D: 12:00, 1:15, 3:45, 6:15, 8:45
WHEN THE GAME STANDS TALL: 1:05, 3:50, 6:30, 9:15
Mill Creek Cinema
DOLPHIN TALE 2: 7:00
EXPENDABLES 3: 2:55, 8:15
GIVER: 5:45
GUARDIANS OF THE GALAXY 2D: 3:15, 6:05, 9:00
IF I STAY: 3:25, 5:55, 8:30
LET S BE COPS: 4:15, 9:25
NOVEMBER MAN: 3:10, 6:00, 8:45
SIN CITY: A DAME TO KILL FOR 2D: 6:35
SIN CITY: A DAME TO KILL FOR 3D: 3:55, 9:15
TEENAGE MUTANT NINJA TURTLES 2D: 3:50, 6:25, 8:55
WHEN THE GAME STANDS TALL: 3:35, 6:20, 9:10
Minor Theatre
BOYHOOD: 4:25, 8:00
HUNDRED-FOOT JOURNEY: 3:25, 6:15, 9:00
MAGIC IN THE MOONLIGHT: 4:10, 6:40, 9:10